Floral biology and pistil receptivity of the drumstick tree (Moringa oleifera Lam.)
Keywords:
Moringa oleifera Lam., stigma, style, stigmatic receptivity, ultrastructure
Abstract
Drumstick (Moringa oleifera Lam.) has a wide range of uses due to its high nutritional value and the high oil content of its seeds. Many aspects of its reproductive biology remain poorly understood. We investigated the floral morphology of drumstick, its stigma receptivity and the structural and cytochemical features of the stigma and style at different developmental stages. The inflorescences are panicles of hermaphroditic flowers, with a pistil consisting of one open-type stigma and a hollow stylar canal. Stigma receptivity was assayed based on pollen germination, pollen tube growth and fruit set following artificial pollination. Flowers at later developmental stages exhibited greater stigma receptivity, higher percentages of pollen germination and a higher fruit set than those in earlier stages. Enhanced stigma receptivity was associated with increased amounts of insoluble polysaccharides, lipids and proteins in the canal cells at later developmental stages. An ultrastructural study of the cells lining the canal indicated that they were secretory cells containing an enlarged endoplasmic reticulum, dictyosomes, mitochondria, plastids and ribosomes. Post-anthesis, these organelles exhibited degeneration at the end of the secretory phase. This study provides an important contribution to current knowledge of the anatomy and ultrastructure of the style and stigma in drumstick.
https://doi.org/10.2298/ABS170205046Z
Received: February 5, 2017; Revised: April 10, 2017; Accepted: May 8, 2017; Published online: November 20, 2017
How to cite this article: Zhang J, Lin M, Chen H, Zhu Q, Linh VN, Chen X. Floral biology and pistil receptivity of the drumstick tree (Moringa oleifera Lam.). Arch Boil Sci. 2018;70(2):299-305.
Downloads
Download data is not yet available.
References
Ramachandran C, Peter KV, Gopalakrishnan PK. Drumstick (Moringa oleifera): A multipurpose Indian vegetable. Econ Bot. 1980;34(3):276-83.
Fahey JD. Moringa oleifera: A review of the medical evidence for its nutritional, therapeutic, and prophylactic properties. Part 1. Trees Life J. 2005;1:5.
Anwar F, Latif S, Ashraf M, Gilani AH. Moringa oleifera: A food plant with multiple medicinal uses. Phytother Res. 2007;21(1):17-25.
Popoola JO, Obembe OO. Local knowledge, use pattern and geographical distribution of Moringa oleifera Lam. (Moringaceae) in Nigeria. J Ethnopharmacol. 2013;150 (2):682-91.
Leone A, Spada A, Battezzati A, Schiraldi A, Aristil J, Bertoli S. Cultivation, genetic, ethnopharmacology, phytochemistry and pharmacology of Moringa oleifera leaves: An overview. Int J Mol Sci. 2015;16 (6):12791-835.
Melesse A, Steingass H, Boguhn J, Schollenberger M, Rodehutscord M. Effects of elevation and season on nutrient composition of leaves and green pods of Moringa stenopetala and Moringa oleifera. Agroforest Syst. 2012;86(3):505-18.
Mendieta-Araica B, Spörndly E, Reyes-Sánchez N, Salmeron-Miranda F, Halling M. Biomass production and chemical composition of Moringa oleifera under different planting densities and levels of nitrogen fertilization. Agroforest Syst. 2013;87(1):81-92.
Makita C, Chimuka L, Steenkamp P, Cukrowska E, Madala E. Comparative analyses of flavonoid content in Moringa oleifera and Moringa ovalifolia with the aid of UHPLC-qTOF-MS fingerprinting. S Afr J Bot. 2016;105:116-22.
Qi N, Gong X, Feng C, Wang X, Xu Y, Lin L. Simultaneous analysis of eight vitamin E isomers in Moringa oleifera Lam. leaves by ultra performance convergence chromatography. Food Chem. 2016;207:157-61.
Singh RSG, Negi PS, Radha C. Phenolic composition, antioxidant and antimicrobial activities of free and bound phenolic extracts of Moringa oleifera seed flour. J Funct Foods. 2013;5(4):1883-91.
Anand K, Gengan RM, Phulukdaree A, Chuturgoon A. Agroforestry waste Moringa oleifera petals mediated green synthesis of gold nanoparticles and their anti-cancer and catalytic activity. J Ind Eng Chem. 2015;21(1):1105-11.
Freire JEC, Vasconcelos IM, Moreno FBMB, Batista AB, Lobo MDP, Pereira ML, Lima, JPMS, Almeida RVM, Sousa AJS, Monteiro-Moreira ACO, Oliveira JTA, Grangeiro TB. Mo-CBP3, an Antifungal chitin-binding protein from Moringa oleifera seeds, is a member of the 2S albumin family. PloS One. 2015;10(3):e0119871.
Jyothi PV, Atluri JB, Subba-Reddi C. Pollination ecology of Moringa Oleifera (Moringaceae). Proc Indian Acad Sci (Plant Sci.). 1990;100(1):33-42.
Bhattacharya A, Mandal S. Pollination, pollen germination and stigma receptivity in Moringa oleifera Lamk. Grana. 2004;43(1):48-56.
Kanthaswamy V. Studies on pollination and breeding behaviour in moringa (Moringa oleifera Lam). Vegetable Science. 2005;32:187-88.
Muluvi GM, Sprent JI, Odee D, Powell W. Estimates of outcrossing rates in Moringa oleifera using Amplified fragment length polymorphism (AFLP). Afr J Biotechnol. 2004;3(2):145-51.
Kalinganire A, Harwood CE, Slee MU, Simons AJ. Floral structure, stigma receptivity and pollen viability in relation to protandry and self-incompatibility in silky oak (Grevillea robusta A. Cunn.). Ann Bot-London. 2000;86(1):133-48.
Tangmitcharoen S, Owens JN. Floral biology, pollination, pistil receptivity, and pollen tube growth of teak (Tectona grandis Linn f.). Ann Bot-London. 1997;79(3):227-41.
Lankinen A, Armbruster WS, Antonsen L. Delayed stigma receptivity in Collinsia heterophylla (Plantaginaceae): genetic variation and adaptive significance in relation to pollen competition, delayed self-pollination, and mating-system evolution. Am J Bot. 2007;94(7):1183-92.
Losada JM, Herrero M. Flower strategy and stigma performance in the apple inflorescence. Sci Hortic-Amsterdam. 2013;150(2):283-9.
Zhao S, Liao K, Da M, Xu G, Xu L, Dong S, Du R. Study on pollen viability and stigma receptivity of very later-ripening 'Dongxing' apricot. J Agr Sci Tech-Iran. 2015;16:954-57.
Fadón E, Herrero M, Rodrigo J. Flower development in sweet cherry framed in the BBCH scale. Sci Hortic-Amsterdam. 2015;192:141-7.
Steinacher G, Wagner J. Flower longevity and duration of pistil receptivity in high mountain plants Flora. 2010;205(6):376-87.
Sanzol J, Rallo P, Herrero M. Asynchronous development of stigmatic receptivity in the pear (Pyrus communis; Rosaceae) flower. Am J Bot. 2003;90(1):78-84.
Owens SJ. Stigma, style, pollen and the pollen-stigma interaction in Caesalpinioideae. Advances in legume biology. In: Proceedings of the 2nd International Legume Conference; 1986 Jun 23-27; St. Louis, Missouri. St. Louis: Missouri Botanical Garden; 1986. p. 23-7.
Leins P, Erbar C. Floral morphological studies in the South African Cyphia stenopetala Diels (Cyphiaceae). Int J Plant Sci. 2005;166(2):207-17.
Ismailoglu I, Unal M. Structure and Cytochemical Features of Stigma and Style of Ornithogalum Sigmoideum Freyn & Sint, Unpollinated and Pollinated Pistil. Acta Biol Cracov Bot. 2012;54(1):65-75.
Reinhardt S, Ewald A, Hellwig F. The Anatomy of the stigma and style from Cyclamen persicum (Mill.) cv. "pure white" and its relation to pollination success. Plant Biol. 2007;9(1):158-62.
Castro S, Silva S, Stanescu I, Silveira P, Navarro L, Santos C. Pistil anatomy and pollen tube development in Polygala vayredae Costa (Polygalaceae). Plant Biol. 2009;11(3):405-16.
Jordaan A, Wessels DCJ, Kruger H. Structure of the style and wet nonpapillate stigma of Colophospermum mopane, Caesalpinioideae: Detarieae. Bot J Linn Soc. 2002;139(139):295-304.
Deng Y, Chen S, Teng N, Chen F, Li F, Song A, Guan Z. Flower morphologic anatomy and embryological characteristics in Chrysanthemum multicaule (Asteraceae). Sci Hortic-Amsterdam. 2010;124(4):500-5.
Rejón JD, Delalande F, Schaeffer-Reiss C, Carapito C, Zienkiewicz K, Alche JDD, Rodriguez-Garcia MI, Dorsselaer AV, Castro AJ. The plant stigma exudate: a biochemically active extracellular environment for pollen germination? Plant Signaling Behav. 2014;9(3):5695-705.
Sanchez AM, Bosch M, Bots M, Nieuwland J, Feron R, Mariani C. Pistil factors controlling pollination. The Plant Cell. 2004;16(suppl. 1):S98-S106.
Lenartowska M, Krzesłowska M, Bednarska E. Pectin dynamic and distribution of exchangeable Ca2+ in Haemanthus albiflos hollow style during pollen-pistil interactions. Protoplasma. 2011;248(4):695-705.
Woodcock TS, Larson BMH, Kevan PG, Inouye DW, Lunau K. Flies and flowers II: Floral attractants and rewards. J Polli Ecol. 2014;12(8):63-94.
Jauh GY, Lord EM. Localization of pectins and arabinogalactan-proteins in lily (Lilium longiflorum L.) pollen tube and style, and their possible roles in pollination. Planta. 1996;199(2):251-61.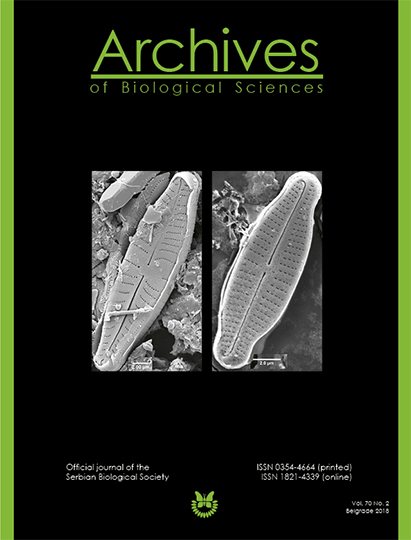 Downloads
How to Cite
1.
Zhang J, Lin M, Chen H, Zhu Q, linh VN, Chen X. Floral biology and pistil receptivity of the drumstick tree (Moringa oleifera Lam.). Arch Biol Sci [Internet]. 2018Apr.27 [cited 2022Sep.29];70(2):299-305. Available from: https://www.serbiosoc.org.rs/arch/index.php/abs/article/view/1454