The effect of Ferula szowitsiana extract on chemical pain in male Wistar rats
Keywords:
Ferula szowitsiana, chemical pain, formalin test, naloxone, opioid system
Abstract
Investigations on the use of medicinal plants are appealing to researchers. In Iranian traditional medicine, Ferula szowitsiana is used as an analgesic. This study investigates the effect of the extract of aerial parts of Ferula szowitsiana on an experimental model of chemical pain induced by subplantar injection of formalin. The Ferula szowitsiana hydroalcoholic extract was prepared with ethanol, Tween 80 and saline at a ratio of 8:1:1 serving as a solvent. Wistar Rats in the weight range of 200-250 g were divided into 10 groups randomly (n=7) according to treatment applied as follows: control; solvent (intraperitoneal, i.p.); solvent (intrathecal, i.t.); extract (50, 100, 200, 400 mg/kg i.p.); extract (80 µg/10 µL i.t); naloxone (2 mg/kg i.p.); extract (400 mg/kg) and naloxone (i.p.). To study the chemical pain, subplantar administration of formalin was performed in all groups. The results showed that the extract could reduce chemical pain in the neurogenic and inflammatory phase dose dependently as compared to the control group. The magnitude of the response after intrathecal administration of a dose of 80 µg/10µL was comparable to that observed with 400 mg/kg of extract administered via the intraperitoneal route. The administration of naloxone as an opioid receptor antagonist reversed the analgesic effect of the extract completely. According to the results, it seems that at least a significant part of the analgesic effect of Ferula szowitsiana extract is exerted through its effect on the central nervous system, and the analgesic effect of the extract in acute and inflammatory chemical pain is due to its effect on the opioid system.
https://doi.org/10.2298/ABS170326054S
Received: March 26, 2017; Revised: May 19, 2017; Accepted: June 2, 2017; Published online: December 21, 2017
How to cite this article: Saghravanian SJ, Fereidoni M, Asadollahi A. The effect of Ferula szowitsiana extract on chemical pain in male wistar rats. Arch Biol Sci. 2018;70(2):365-9.
Downloads
Download data is not yet available.
References
Fields HL. Pain: an unpleasant topic. Pain. 1999;Suppl6:S61-9.
Gaskin DJ, Richard P. The economic costs of pain in the United States. J Pain. 2012;13(8):715-24.
Julius D, Basbaum AI. Molecular mechanisms of nociception. Nature. 2001;413(6852):203-10.
Habibi Z, Aghaie HR, Ghahremanzadeh R, Masoudi S, Rustaiyan A. Composition of the Essential Oils of Ferula szowitsiana DC, Artedia squamata L. and Rhabdosciadium petiolare Boiss. & Hausskn.ex Boiss. Three Umbelliferae Herbs Growing Wild in Iran. J Essent Oil Res. 2006;18(5):503-5.
Sharififar F, Koohpayeh A, Motaghi MM, Amirkhosravi A, Puormohseni Nasab E, Khodashenas M. Study the ethnobotany of medicinal plants in Sirjan, Kerman province, Iran. J Herb Drugs. 2010;1(3):19-28.
Dehghan G, Solaimanian R, Shahverdi AR, Amin G, Abdollahi M, Shafiee A. Chemical composition and antimicrobial activity of essential oil of Ferula szovitsiana D.C. Flavour Fragrance J. 2007;22(3):224-7.
do Vale TG, Furtado EC, Santos JG Jr, Viana GS. Central effects of citral, myrcene and limonene, constituents of essential oil chemotypes from Lippia alba (Mill.) n.e. Brown. Phytomedicine. 2002;9(8):709-14.
Klauke AL, Racz I, Pradier B, Markert A, Zimmer AM, Gertsch J, Zimmer A. The cannabinoid CB(2) receptor-selective phytocannabinoid beta-caryophyllene exerts analgesic effects in mouse models of inflammatory and neuropathic pain. Eur Neuropsychopharmacol. 2014;24(4):608-20.
Park HM, Lee JH, Yaoyao J, Jun HJ, Lee SJ. Limonene, a natural cyclic terpene, is an agonistic ligand for adenosine A(2A) receptors. Biochem Biophys Res Commun. 2011;404(1):345-8.
Zimmermann M. Ethical guidelines for investigations of experimental pain in conscious animals. Pain. 1983;16(2):109-10.
Urushidani T, Forte JG, Sachs G. Mechanisms and consequences of proton transport: Springer Science & Business Media; 2012.
Wheeler-Aceto H, Cowan A. Standardization of the rat paw formalin test for the evaluation of analgesics. Psychopharmacology. 1991;104(1):35-44.
Alizadeh Z, Fereidoni M, Behnam-Rassouli M, Hosseini S. Role of C-fibers in pain and morphine induced analgesia/hyperalgesia in rats. Iran J Neurol. 2014;13(1):19.
Yaksh TL, Rudy TA. Chronic catheterization of the spinal subarachnoid space. Physiol Behav. 1976;17(6):1031-6.
Liapi C, Anifantis G, Chinou I, Kourounakis AP, Theodosopoulos S, Galanopoulou P. Antinociceptive properties of 1, 8-cineole and β-pinene, from the essential oil of Eucalyptus camaldulensis leaves, in rodents. Planta Med. 2007;73(12):1247-54.
Him A, Ozbek H, Turel I, Oner AC. Antinociceptive activity of alpha-pinene and fenchone. Pharmacol Online. 2008;3:363-9.
Katzung BG. Basic & clinical pharmacology. New York, USA: Lange Medical Books/McGraw-Hill; 2004.
Rao V, Menezes A, Viana G. Effect of myrcene on nociception in mice. J Pharm Pharmacol. 1990;42(12):877-8.
Ibrahim MM, Porreca F, Lai J, Albrecht PJ, Rice FL, Khodorova A, Davar G, Makriyannis A, Vanderah TW, Mata HP, Malan TP Jr. CB2 cannabinoid receptor activation produces antinociception by stimulating peripheral release of endogenous opioids. Proc Natl Acad Sci U S A. 2005;102(8):3093-8.
Paula-Freire L, Andersen M, Gama V, Molska G, Carlini E. The oral administration of trans-caryophyllene attenuates acute and chronic pain in mice. Phytomedicine. 2014;21(3):356-62.
Essawy S, Elbaz A. Role of adenosine receptors in the anti-nociceptive effects of allopurinol in mice. Analgesia. 2013;10:100.
Wirkner K, Assmann H, Köles L, Gerevich Z, Franke H, Nörenberg W, Boehm R, Illes P. Inhibition by adenosine A2A receptors of NMDA but not AMPA currents in rat neostriatal neurons. Br J Pharmacol. 2000;130(2):259-69.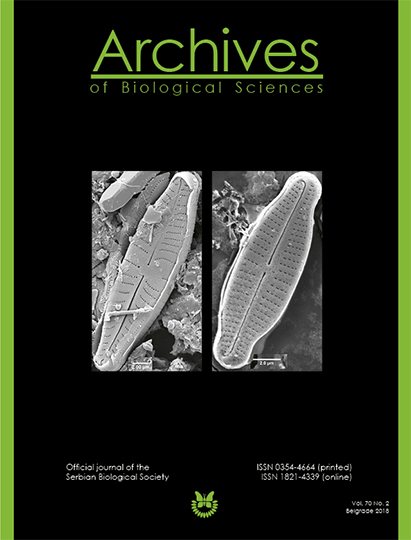 Downloads
How to Cite
1.
Saghravanian SJ, Fereidoni M, Asadollahi A. The effect of Ferula szowitsiana extract on chemical pain in male Wistar rats. Arch Biol Sci [Internet]. 2018May30 [cited 2022Sep.29];70(2):365-9. Available from: https://www.serbiosoc.org.rs/arch/index.php/abs/article/view/1614