Insecticidal activity of endophytic actinomycetes isolated from Azadirachta indica against Myzus persicae
Keywords:
Azadirachta indica, endophytic actinomycetes, Myzus persicae, insecticidal activity, S. albidoflavus
Abstract
In the present study, 85 strains of actinomycetes were isolated from the neem tree (Azadirachta indica) and screened for their insecticidal activity against the green peach aphid, Myzus persicae. The results showed that crude extracts from 24 strains exerted a contact effect against M. persicae with different insecticidal efficacies. Crude extracts from 8 actinomycetes strains exhibited the highest insecticidal activity (above 60%). Out of these 8 strains, 3 isolates that produced the maximum mortalities were screened a second time. The crude extract from strain G30 was the most virulent against the green peach aphid, with LC50 and LC95 values of 1.680 mg/mL and 4.370 mg/mL, respectively, after 48 h of treatment. The following morphological, culture, physiological and biochemical characteristics of strain G30 were recorded: (i) ovate-orbicular and smooth surface spores with short and curve filaments; (ii) an aerial off-white mycelium with a mustered yellow base; (iii) inability to produce soluble pigments; (iv) the ability to hydrolyze starch but not cellulose; (v) the ability to utilize glycerin and several sugars as a carbon source but not L-rhamnose and sorbitol. Molecular identification of G30 revealed a 99.6% genetic similarity of the 16S rDNA sequence with Streptomyces albidoflavus. We conclude that the isolate G30 was S. albidoflavus and that the insecticidal activity of its crude extract was sufficiently high to become a candidate for bioinsecticide development.
https://doi.org/10.2298/ABS170729052C
Received: July 29, 2017; Revised: December 4, 2017; Accepted: December 5, 2017; Published online: December 12, 2017
How to cite this article: Chen Y, Shafi J, Li M, Fu D, Ji M. Insecticidal activity of endophytic actinomycetes isolated from Azadirachta indica against Myzus persicae. Arch Biol Sci. 2018;70(2):349-57.
Downloads
Download data is not yet available.
References
Bass C, Puinean AM, Zimmer CT, Denholm I, Field LM, Foster SP, Gutbrod O, Nauen R, Slater RWilliamson MS. The evolution of insecticide resistance in the peach potato aphid, Myzus persicae. Insect Biochem Mol Biol. 2014;51:41-51.
Blackman RL, Eastop VF. Aphids on the world's herbaceous plants and shrubs. Chichester: John Wiley & Sons; 2008. 215 p.
Pesticide Environmental Stewardship [Internet]. Washington. Center for Integrated Pest Management. Insecticide Resistance Mechanisms. [cited 2017 Sept 20]; [about 1 screen]. Available from: https://pesticidestewardship.org/resistance/insecticide-resistance/insecticide-resistance-mechanisms/.
World Health Organization. Global Plan for insecticide resistance management in malaria vectors. Geneva: WHO; 2012. 44-86 p.
Liu N. Insecticide resistance in mosquitoes: impact, mechanisms, and research directions. Annu Rev Entomol. 2015;60:537-59.
Gonzalez CA, Reina M, Diaz C, Fraga BSMO. Natural product-based biopesticides for insect control. In: Mander L, Liu HW, editors. Comprehensive natural products. Oxford: Elsevier Science; 2010. p. 237-68.
Noel V. Neem: a tree for solving global problems. 1st ed. New York: The Minerva Group, Inc; 2004. 132 p.
Li XZS. The toxic effects and mode of azadirachtin on insects. J South China Normal Univ. 1995;17(1):118-22.
Jadeja G, Maheshwari RNS. Extraction of natural insecticide azadirachtin from neem (Azadirachta indica A. Juss) seed kernels using pressurized hot solvent. J Supercrit Fluids. 2011;56(3):253-8.
Xu H. Insecticidal plants and botanical insecticide. Beijing: China Agriculture Press; 2001. 309 p.
Xuan TD, Tsuzuki E, Hiroyuki T, Mitsuhiro M, Khanh TDCIM. Evaluation on phytotoxicity of neem (Azadirachta indica. A. Juss) to crops and weeds. Crop Protect. 2004;23(4):335-45.
Siddiqui BS, Afshan F, Faizi S, Naqvi STR. Two insecticidal tetranortriterpenoids from Azadirachta indica. Phytochem. 2000;53(3):371-6.
Schulz B, Boyle C, Draeger S, Römmert AK, Krohn K. Endophytic fungi: a source of novel biologically active secondary metabolites. Mycol Res. 2002;106(9):996-1004.
Shannag H, Capinera JFN. Efficacy of different neem-based biopesticides against green peach aphid, Myzus persicae (Hemiptera: Aphididae). Int J Agr Policy Res. 2014;2(2):61-8.
Faraone N, Hillier NKC. Plant essential oils synergize and antagonize toxicity of different conventional insecticides against Myzus persicae (Hemiptera: Aphididae). Plos One. 2015;10(5):e0127774.
Christopher Cutler G, Ramanaidu K, Astatkie T, Isman MB. Green peach aphid, Myzus persicae (Hemiptera: Aphididae), reproduction during exposure to sublethal concentrations of imidacloprid and azadirachtin. Pest Manage Sci. 2009;65(2):205-9.
Strobel GDB. Bioprospecting for microbial endophytes and their natural products. Microbiol Mol Biol Rev. 2003;67(4):491-502.
Shi N, Yang RIL. Screening and Primary Study of Actinomycetes with Insecticidal Activity. Chin J Bio Control. 2009;25(1):45-7.
Tao S, Zong MS. Ecological distribution of actinomycetes in the southwest part of Shandong province. Shandong Agric Sci. 2006;2:017.
Araújo W, Lima AS, Azevedo J, Marcon J, Sobral JLP. Manual: isolamento de microrganismos endofíticos. Piracicaba: Calq; 2002. 86 p.
Caruso M, Colombo A, Fedeli L, Pavesi A, Quaroni S, Saracchi MVG. Isolation of endophytic fungi and Actinomycetes taxane producers. Ann Microbiol. 2000;50(1):3-13.
Locci R. Streptomyces and related genera. In: Williams ST, Sharpe ME, Holt JG, editors. Bergey's manual of systematic bacteriology. Baltimore: Williams & Wilkins; 1989. p. 245-9.
Zhang YM, Li HY, Hu C, Sheng HF, Zhang Y, Lin BR, Zhou GX. Ergosterols from the culture broth of marine Streptomyces anandii H41-59. Mar Drugs. 2016;14(5):84.
Luo L, Miao F. Screening and Identification of two actinomyces strains with insecticidal activity for radish aphid. Agrochem. 2013;2(1):20.
Kataoka M, Ueda K, Kudo T, Seki TY. Application of the variable region in 16S rDNA to create an index for rapid species identification in the genus Streptomyces. FEMS Microbiol Lett. 1997;151(2):249-55.
Mehling A, Wehmeier UFPW. Nucleotide sequences of streptomycete 16S ribosomal DNA: towards a specific identification system for streptomycetes using PCR. Microbiol. 1995;141(9):2139-47.
Lin Y, Du D, Si C, Zhao Q, Li ZP. Potential biocontrol Bacillus sp. strains isolated by an improved method from vinegar waste compost exhibit antibiosis against fungal pathogens and promote growth of cucumbers. Biol Control. 2014;71:7-15.
Tamura K, Dudley J, Nei MKS. MEGA4: molecular evolutionary genetics analysis (MEGA) software version 4.0. Mol Biol Evol. 2007;24(8):1596-9.
Vijayabharathi R, Kumari BR, Sathya A, Srinivas V, Abhishek R, Sharma HCS. Biological activity of entomopathogenic actinomycetes against lepidopteran insects (Noctuidae: Lepidoptera). Can J Plant Sci. 2014;94(4):759-69.
Nan S, Runlei Ylikun Z. Progress in Actinomycetes with Insecticidal Activities. J Anhui Agric Sci. 2009;11(1):015.
Berdy J. Bioactive microbial metabolites. J Antibiot. 2005;58(1):1.
Xiong L, Li J, Kong F. Streptomyces sp. 173, an insecticidal microorganism from marine. Lett Appl Microbiol. 2004;38(1):32-37.
Deng Y, Hu J, Liu L, Wang N, Wang S. Screening for marine actinomycetes producing insecticidal metabolites. J Biotechnol. 2008;136:533.
El-khawaga M, Megahed M. Antibacterial and insecticidal activity of actinomycetes isolated from sandy soil of (Cairo-Egypt). Egypt Acad J Biol Sci. 2012;4(1):53-67.
Shobha K, Onkarappa R, Goutham S, Raghavendra H. Screening biological activities of a Streptomyces species isolated from soil of Agumbe, Karnataka, India. Int J Dug Dev Res. 2012;4(3):104-14.
Karthik L, Gaurav K, Rao KB, Rajakumar G, Rahuman AA. Larvicidal, repellent, and ovicidal activity of marine actinobacteria extracts against Culex tritaeniorhynchus and Culex gelidus. Parasitol Res. 2011;108(6):1447-55.
Horikoshi R, Goto K, Mitomi M, Oyama K, Sunazuka T, Omacr S. Identification of pyripyropene A as a promising insecticidal compound in a microbial metabolite screening. J Antibiot. 2017;70(1):272-6
Liao W, Ye L, Deng J, Gao JH. Virulence of fermentation products of actinomycetes against Myzus persicae. Anhui Agric Sci. 2004;32(6):1191-1202.
Zhou BG, Wang S, Dou TT, Liu S, Li MY, Hua RM, Li S, GLin HF. Aphicidal activity of Illicium verum fruit extracts and their effects on the Acetylcholinesterase and Glutathione S-transferases activities in Myzus persicae (Hemiptera: Aphididae). J Insect Sci. 2016;16(1):11.
Reddy SE, Dolma SK, Verma PK, Singh B. Insecticidal activities of Parthenium hysterophorus L. extract and parthenin against diamondback moth, Plutella xylostella (L.) and aphid, Aphis craccivora Koch. Toxin Rev. 2017;https://doi.org/10.1080/15569543.2017.1339281.
Chen Y, Li Y, Su Zxian J. Insecticidal and repellent action of pogostone against Myzus persicae (Hemiptera: Aphididae). Fla Entomol. 2017;100(2):346-9.
Ramesh S Mathivanan N. Screening of marine actinomycetes isolated from the Bay of Bengal, India for antimicrobial activity and industrial enzymes. World J Microbiol Biotechnol. 2009;25(12):2103-11.
Pimentel-Elardo SM, Kozytska S, Bugni TS, Ireland CM, Moll H, Hentschel U. Anti-parasitic compounds from Streptomyces sp. strains isolated from Mediterranean sponges. Mar Drugs. 2010;8(2):373-80.
Sacramento DR, Coelho RRR, Wigg MD, Linhares LFTL, Santos MGM, Semêdo LT, Silva AJR. Antimicrobial and antiviral activities of an actinomycete (Streptomyces sp.) isolated from a Brazilian tropical forest soil. World J Microbiol Biotechnol. 2004;20(3):225-9.
Subramani R, Aalbersberg W. Marine actinomycetes: an ongoing source of novel bioactive metabolites. Microbiol Res. 2012;167(10):571-80.
Tanaka Y Omura S. Agroactive compounds of microbial origin. Annu Rev Microbiol.. 1993;47(1):57-87.
Arasu MV, Al-Dhabi NA, Saritha V, Duraipandiyan V, Muthukumar CKim SJ. Antifeedant, larvicidal and growth inhibitory bioactivities of novel polyketide metabolite isolated from Streptomyces sp. AP-123 against Helicoverpa armigera and Spodoptera litura. BMC Microbiol. 2013;13(1):105.
Kaur T, Manhas RK. Antifungal, insecticidal, and plant growth promoting potential of Streptomyces hydrogenans DH16. J Basic Microbiol. 2014;54(11):1175-85.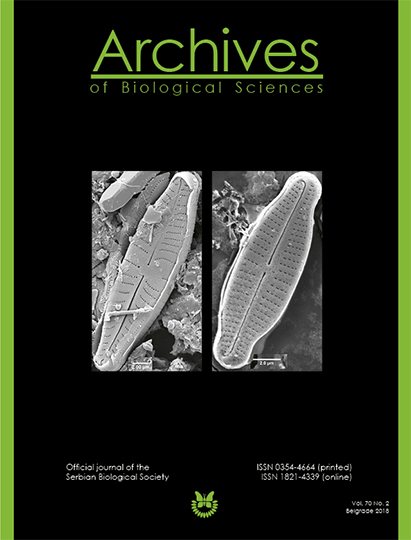 Downloads
How to Cite
1.
Chen Y, Shafi J, Li M, Fu D, Ji M. Insecticidal activity of endophytic actinomycetes isolated from Azadirachta indica against Myzus persicae. Arch Biol Sci [Internet]. 2018May30 [cited 2023Sep.28];70(2):349-57. Available from: https://www.serbiosoc.org.rs/arch/index.php/abs/article/view/2015
License
Authors grant the journal right of first publication with the work simultaneously licensed under a Creative Commons Attribution 4.0 International License that allows others to share the work with an acknowledgment of the work's authorship and initial publication in this journal.