Tomato aspermy virus elimination improves medicinal quality of chrysanthemum
Keywords:
chrysanthemum, tomato aspermy virus (TAV) elimination, chlorogenic acid, luteoloside, 3, 5-O-dicaffeoylquinic acid
Abstract
Paper description:
Chrysanthemum morifolium cv. 'Huaihuang' is a well-known medicinal plant in China, but virus infections greatly reduce its medicinal quality. Many studies have shown that detoxification can help crops grow better, however, the effect of detoxification on crop quality has received little scientific attention. Tomato aspermy virus (TAV) is the main virus disease of 'Huaihuang'.
In this study, we verified that TAV elimination can greatly improve the medicinal quality of 'Huaihuang'.
This work provides the evidence that eliminating TAV is an effective way to improve the medicinal quality of chrysanthemum.
Abstract: Chrysanthemum morifolium cv. 'Huaihuang', a medicinal chrysanthemum of China, undergoes long-term asexual reproduction and virus infection that change its quality characteristics. Our previous studies have shown that tomato aspermy virus (TAV) is the main virus infecting 'Huaihuang'. Many studies indicate that plant virus elimination can improve plant growth, but only a few studies have focused on the effects of detoxification on the medicinal components of medicinal plants. In this paper, the content of medicinal components, including chlorogenic acid, luteoloside and 3,5-O-dicaffeoylquinic acid, was compared between the TAV-free and TAV-infected (control) chrysanthemum. In addition, the reason why TAV elimination improves the medicinal components of chrysanthemum is explored. Our results suggest that TAV elimination significantly improves plant growth, enhances the enzyme activities of phenylalanine ammonia-lyase, cinnamate-4-hydroxylase and 4-coumarate:CoA ligase, and increases the levels of CmHCT and CmCHS expression, thereby greatly improving the medicinal quality of chrysanthemum.
https://doi.org/10.2298/ABS171226010Z
Received: December 26, 2017; Revised: February 19, 2018; Accepted: March 15, 2018; Published online: March 22, 2018
How to cite this article: Zhao X, Jiang L, Liu K, Ma M, Zhou Y, Tian Y, Li M. Tomato aspermy virus elimination improves medicinal quality of chrysanthemum. Arch Biol Sci. 2018;70(3):…
Downloads
Download data is not yet available.
References
China Pharmacopeia Commission. Pharmacopoeia of the People's Republic of China. 10th ed. Beijing: Chemistry Industry Publishing House; 2015. 1749 p.
Kondo T, Yamashita K, Sugiyama S. First report of impatiens necrotic spot virus infecting chrysanthemum (Chrysanthemum morifolium) in Japan. J Gen Plant Pathol. 2011;77(4):263-5
Miller AJ, Cramer MD. Root nitrogen acquisition and assimilation. Plant Soil. 2005;274(1):1-36
Verma N, Sharma A, Ram R, Hallan V, Zaidi AA, Garg ID. Detection, identification and incidence of chrysanthemum B carlavirus in chrysanthemum in India. Crop Prot. 2003;22(2):425-9
Zhao X, Liu X, Ge B, Li M, Hong B. A multiplex RT-PCR for simultaneous detection and identification of five viruses and two viroids infecting chrysanthemum. Arch Virol. 2015a;160(5):1145-52
Kong BH, Li DB. Tomalo aspermy virus causing chrysanthemum disease. J Zhejiang Univ Agricult Life Sci. 1990;16(1):55-60. Chinese
Komar V, Vigne E, Demangeat G, Fuchs M. Beneficial effect of selective virus elimination on the performance of Vitis vinifera cv. Chardonnay. Am J Enol Vitic. 2007;58(2):202-10
Deepthi DC, Makeshkumar T. Elimination of cassava mosaic disease through meristem culture and field evaluation for yield loss assessment in cassava genotypes. J Root Crops. 2016;42(1):45-52
Zhao XT, Liu XX, Hong B. Characterization of tomato aspermy virus isolated from chrysanthemum and elucidation of its complete nucleotide sequence. Acta Virol. 2015b;59(2):204-6
Bailey TJ. Statistics method in biology. 2nd ed. London: Hodder and Stoughton; 1981. p.
Solecka D, Kacperska A. Phenylpropanoid deficiency affects the course of plant acclimation to cold. Physiol Plant. 2003;119(2):253-62
Lamb CJ, Rubery PH. A spectrophotometric assay for trans-cinnamic acid 4-hydroxylase activity. Anal Biochem. 1975;68(2):554-61
Knobloch KH, Hahlbrock K. Isoenzymes of p-coumarate: CoA ligase from cell suspension cultures of glycine max. Eur J Biochem. 1975;52(2):311-20
Livak KJ, Schmittgen TD. Analysis of relative gene expression data using real-time quantitative PCR and the 2(-Delta Delta C(T)) Method. Methods. 2001;25(4):402-8
Yi JY, Gian L, Jongwook J, Sokyoung L, Younggyu L. Eliminating potato virus Y (PVY) and potato leaf roll virus (PLRV) using cryotherapy of in vitro-qrown potato shoot tips. Hanguk Jakmul Hakhoe Chi. 2014;59(4):498-504
Li BQ, Feng CH, Hu LY, Wang MR, Wang QC. Shoot tip culture and cryopreservation for eradication of Apple stem pitting virus (ASPV) and Apple stem grooving virus (ASGV) from apple rootstocks 'M9' and 'M26'. Ann Appl Biol. 2016;168(1):142-50
Vieira RL, Silva AL, Zaffari GR, Steinmacher DA, Freitas Fraga HP, Guerra MP. Efficient elimination of virus complex from garlic (Allium sativum L.) by cryotherapy of shoot tips. Acta Physiol Plant. 2015;37(1):1733
Yin ZF, Bi WL, Chen L, Zhao B, Volk GM, Wang QC. An efficient, widely applicable cryopreservation of Lilium shoot tips by droplet vitrification. Acta Physiol Plant. 2014;36(7):1683-92
Ververidis F, Trantas E, Douglas C, Vollmer G, Kretzschmar G, Panopoulos N. Biotechnology of flavonoids and other phenylpropanoid-derived natural products. Part I: Chemical diversity, impacts on plant biology and human health. Biotechnol J. 2007;2(10):1214-34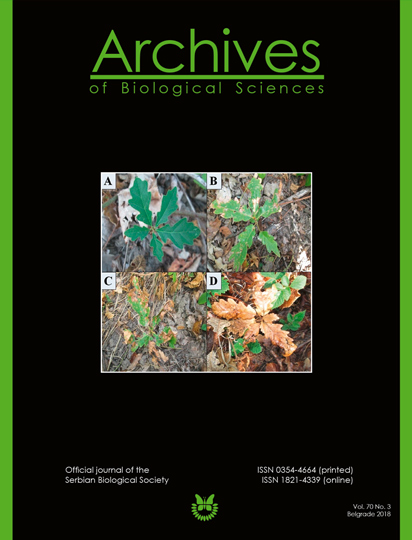 Downloads
How to Cite
1.
Zhao X, Jiang L, Liu K, Ma M, Zhou Y, Tian Y, Li M. Tomato aspermy virus elimination improves medicinal quality of chrysanthemum. Arch Biol Sci [Internet]. 2018Aug.20 [cited 2022May29];70(3):497-502. Available from: https://www.serbiosoc.org.rs/arch/index.php/abs/article/view/2499