Prothrombin expression in cancer-derived cell lines
Keywords:
prothrombin, prothrombin expression, cancer cells, Caco-2, colorectal carcinoma
Abstract
Paper description:
The relationship between cancer and thrombotic disorders has been known for over a century. Many studies have examined the role of thrombin in the etiology and progression of cancer.
There are limited literature data on the expression of prothrombin, the precursor of thrombin, in cancer cell lines. We aimed to determine whether common cancer-derived cell lines express prothrombin. Herein we show that the Caco-2 cell line expresses prothrombin, while cell lines MCF-7, SK-BR-3, U-87 and U-251 do not.
Our findings point to a possible link between prothrombin expression and different types of cancer.
Abstract: The link between thrombotic disorders and cancer has been known for over 150 years, although the precise mechanism of this relationship has not yet been resolved. Current data show that thrombin has a significant role in cancer metabolism, invasiveness, adhesion and survival. However, data regarding the expression of the thrombin precursor prothrombin in various cancer cell lines are scarce. Therefore, it was our objective to determine whether common cancer-derived cell lines (Caco-2, MCF-7, SK-BR-3, U-87 and U-251) express prothrombin. The prothrombin RNA expression level was assessed by qPCR, and the presence of prothrombin was analyzed by Western blot analysis. Our results show that Caco-2 cells originating from colorectal adenocarcinoma express prothrombin, whereas other analyzed cell lines do not. Our results provide a background for further research into the role of (pro)thrombin in cancer etiopathology.
https://doi.org/10.2298/ABS180829046D
Received: August 29, 2018; Revised: September 27, 2018; Accepted: October 3, 2018; Published online: October 10, 2018
How to cite this article: Dunjić S, Cumbo M, Gvozdenov M, Tomić B, Pruner I, Radojković D, Đorđević V. Prothrombin expression in cancer-derived cell lines. Arch Biol Sci. 2019;71(1):49-54.
Downloads
Download data is not yet available.
References
Torre LA, Bray F, Siegel RL, Ferlay J, Lortet-Tieulent J, Jemal A. Global Cancer Statistics, 2012. CA Cancer J Clin. 2015;65(2):87-108.
Falanga A, Marchetti M, Russo L. The Mechanisms of Cancer-associated Thrombosis. Thromb Res. 2015;135:S8-S11.
Trousseau A. Clinique médicale de l'Hôtel-Dieu de Paris. Paris: Baillière; 1865. French.
Eichinger S. Cancer Associated Thrombosis: Risk Factors and Outcomes. Thromb Res. 2016;140:S12-S7.
Falanga A, Russo L, Verzeroli C. Mechanisms of Thrombosis in Cancer. Thromb Res. 2013;131:S59-S62.
Khorana AA, Francis CW. Cancer-Associated Thrombosis: New Findings in Translational Science, Prevention and Treatment. New York: CRC Press; 2007. 279 p.
Chung DW XW, Davie EW. The Blood Coagulation Factors and Inhibitors: Their Primary Structure, Complementary DNAs, Genes, and Expression. In: Marder VJ, Aird WC, Bennett JS, Schulman S, White GC, editors. Hemostasis and Thrombosis: Basic Principles and Clinical Practice. Philadelphia: Lippincott Williams & Wilkins; 2012. p. 110-45.
Wojtukiewicz MZ, Hempel D, Sierko E, Tucker SC, Honn KV. Protease-Activated Receptors (PARs)—Biology and Role in Cancer Invasion and Metastasis. Cancer Metastasis Rev. 2015;34(4):775-96.
Coughlin SR. Thrombin Signaling and Protease-Activated Receptors. Nature. 2000;407(6801):258.
Ebrahimi S, Rahmani F, Behnam-Rassouli R, Hoseinkhani F, Parizadeh MR, Keramati MR, Khazaie M, Avan, Hassanian SM. Proinflammatory Signaling Functions of Thrombin in Cancer. J Cell Physiol. 2017;232(9):2323-9.
Tsopanoglou NE, Maragoudakis ME. Role of Thrombin in Angiogenesis and Tumor Progression. Semin Thromb Hemost. 2004;30(1):63-9.
Mohle R, Green D, Moore MA, Nachman RL, Rafii S. Constitutive Production and Thrombin-induced Release of Vascular Endothelial Growth Factor by Human Megakaryocytes and Platelets. Proc Natl Acad Sci USA. 1997;94(2):663-8.
Rickles FR, Patierno S, Fernandez PM. Tissue factor, Thrombin and Cancer. Chest. 2003;124(3 Suppl):58s-68s.
Danckwardt S, Hentze MW, Kulozik AE. Pathologies at the Nexus of Blood Coagulation and Inflammation: Thrombin in Hemostasis, Cancer and Beyond. J Mol Med. 2013;91(11):1257-71.
Bradford MM. A Rapid and Sensitive Method for the Quantitation of Microgram Quantities of Protein Utilizing the Principle of Protein-dye Binding. Anal Biochem. 1976;72(1-2):248-54.
Burnette WN. "Western blotting": Electrophoretic Transfer of Proteins from Sodium Dodecyl Sulfate-Polyacrylamide Gels to Unmodified Nitrocellulose and Radiographic Detection with Antibody and Radioiodinated Protein A. Anal Biochem. 1981;112(2):195-203.
Wojtukicwicz MZ, Tang DG, Nelson KK, Walz DA, Diglio CA, Honn KV. Thrombin Enhances Tumor Cell Adhesive and Metastatic Properties via Increased αIIbβ3 Expression on the Cell Surface. Thromb Res. 1992;68(3):233-45.
Makki J. Diversity of Breast Carcinoma: Histological Subtypes and Clinical Relevance. Clin Med Insights Pathol. 2015;8:23.
Khan UT, Walker AJ, Baig S, Card TR, Kirwan CC, Grainge MJ. Venous Thromboembolism and Mortality in Breast Cancer: Cohort Study with Systematic Review and Meta-analysis. BMC Cancer. 2017;17(1):747.
Levitan N, Dowlati A, Remick SC, Tahsildar HI, Sivinski LD, Beyth R, Rimm AA. Rates of Initial and Recurrent Thromboembolic Disease Among Patients with Malignancy Versus Those Without Malignancy: Risk Analysis Using Medicare Claims Data. Medicine. 1999;78(5):285-91.
Rickles FR, Edwards RL. Activation of Blood Coagulation in Cancer: Trousseau's Syndrome Revisited. Blood. 1983;62(1):14-31.
Fleming M, Ravula S, Tatishchev SF, Wang HL. Colorectal Carcinoma: Pathologic Aspects. J Gastrointest Oncol. 2012;3(3):153-73.
Thakkar JP, Dolecek TA, Horbinski C, Ostrom QT, Lightner DD, Barnholtz-Sloan JS, Villano JL. Epidemiologic and Molecular Prognostic Review of Glioblastoma. Cancer Epidemiol Biomarkers Prev. 2014;23(10):1985-96.
Preusser M, de Ribaupierre S, Wöhrer A, Erridge SC, Hegi M, Weller M, Stupp R. Current Concepts and Management of Glioblastoma. Ann Neurol. 2011;70(1):9-21.
Dutra-Oliveira A, Monteiro RQ, Mariano-Oliveira A. Protease-Activated Receptor-2 (PAR2) Mediates VEGF Production Through the ERK1/2 Pathway in Human Glioblastoma Cell Lines. Biochem Biophys Res Commun. 2012;421(2):221-7.
Sambuy Y, De Angelis I, Ranaldi G, Scarino M, Stammati A, Zucco F. The Caco-2 Cell Line as a Model of the Intestinal Barrier: Influence of Cell and Culture-related Factors on Caco-2 Cell Functional Characteristics. Cell Biol Toxicol. 2005;21(1):1-26.
Vachon PH, Beaulieu J-F. Transient Mosaic Patterns of Morphological and Functional Differentiation in the Caco-2 Cell Line. Gastroenterology. 1992;103(2):414-23.
Martin K, Weiss S, Metharom P, Schmeckpeper J, Hynes B, O'Sullivan J, Caplice N. Thrombin Stimulates Smooth Muscle Cell Differentiation from Peripheral Blood Mononuclear Cells via Protease-Activated Receptor-1, RhoA, and Myocardin. Circ Res. 2009;105(3):214-8.
Adams GN, Rosenfeldt L, Frederick M, Miller W, Waltz D, Kombrinck K, McElhinney KE, Flick MJ, Monia BP, Revenko AS, Palumbo JS. Colon Cancer Growth and Dissemination Relies Upon Thrombin, Stromal PAR-1 and Fibrinogen. Cancer Res. 2015;75(19):4235-43.
Yamahata H, Takeshima H, Kuratsu J-I, Sarker KP, Tanioka K, Wakimaru N, Nakata M, Kitajima I, Maruyama I. The Role of Thrombin in the Neo-vascularization of Malignant Gliomas: An Intrinsic Modulator for the Up-regulation of Vascular Endothelial Growth Factor. Int J Oncol. 2002;20(5):921-8.
Elste AP, Petersen I. Expression of Proteinase-Activated Receptor 1-4 (PAR 1-4) in Human Cancer. J Mol Histol. 2010;41(2-3):89-99.
Zucker S, Mirza H, Conner CE, Lorenz AF, Drews MH, Bahou WF, Jesty J. Vascular Endothelial Growth Factor Induces Tissue Factor and Matrix Metalloproteinase Production in Endothelial Cells: Conversion of Prothrombin to Thrombin Results in Progelatininase A Activation and Cell Proliferation. Int J Cancer. 1998;75(5):780-6.
DeFeo K, Hayes C, Chernick M, Van Ryn J, Gilmour SK. Use of Dabigatran Etexilate to Reduce Breast Cancer Progression. Cancer Biol Ther. 2010;10(10):1001-8.
Wojtukiewicz MZ, Hempel D, Sierko E, Tucker SC, Honn KV. Thrombin-Unique Coagulation System Protein with Multifaceted Impacts on Cancer and Metastasis. Cancer Metastasis Rev. 2016;35(2):213-33.
Afratis NA, Karamanou K, Piperigkou Z, Vynios DH, Theocharis AD. The Role of Heparins and Nano-Heparins as Therapeutic Tool in Breast Cancer. Glycoconj J. 2017;34(3):299-307.
Nieman MT, LaRusch GA, Fang C, Zhou Y, Schmaier AH. Oral Thrombostatin FM19 Inhibits Prostate Cancer. Thromb Haemost. 2010;104(5):1044.
Alexander ET, Minton AR, Peters MC, Van Ryn J, Gilmour SK. Thrombin Inhibition and Cisplatin Block Tumor Progression in Ovarian Cancer by Alleviating the Immunosuppressive Microenvironment. Oncotarget. 2016;7(51):85291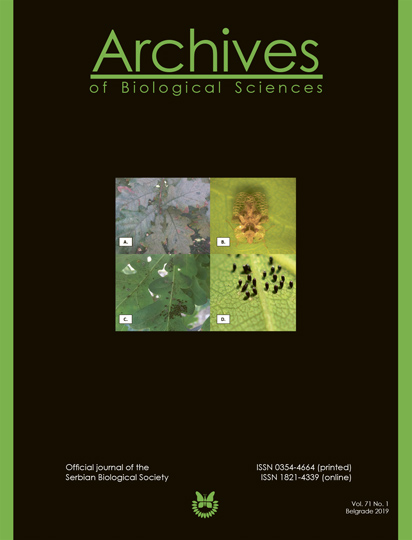 Downloads
How to Cite
1.
Dunjić S, Cumbo M, Gvozdenov M, Tomić B, Pruner I, Radojković D, Đorđević V. Prothrombin expression in cancer-derived cell lines. Arch Biol Sci [Internet]. 2019Apr.2 [cited 2023Nov.28];71(1):49-54. Available from: https://www.serbiosoc.org.rs/arch/index.php/abs/article/view/3370
License
Authors grant the journal right of first publication with the work simultaneously licensed under a Creative Commons Attribution 4.0 International License that allows others to share the work with an acknowledgment of the work's authorship and initial publication in this journal.