Examination of some toxicological parameters of dimethylamylamine when consumed alone or with caffeine
Keywords:
dimethylamylamine (DMMA), mitotic index, proliferative rate index, lymphocyte, caffeine
Abstract
Paper description:
Dimethylamylamine (DMAA) is used as a bodybuilding supplement and is often combined with caffeine to enhance pre-exercise stimulant and thermogenic effects. Its potential toxic effects on humans is unclear, especially when used with caffeine.
This study is the first report describing the cytotoxic, oxidative, genotoxic, and vascular irritation effects of DMAA alone or in the presence of caffeine in lymphocytes cultured from human blood and the chorioallantoic membrane of hen eggs.
DMAA is not genotoxic, but at higher concentrations (500 and 1000 mg/L) in the presence of caffeine it produces cytotoxic, oxidant and irritant effects.
Abstract: Dimethylamylamine (DMAA) is a bodybuilding supplement with fat-burner or performance-enhancing properties. DMAA is often combined with caffeine to enhance its effectiveness and this can have serious adverse effects on health. In this study, we examined for the first time the cytotoxic, oxidative and genotoxic effects of DMAA in the presence or absence of caffeine in lymphocytes cultured from human blood, and its vascular irritant effects in a hen's chorioallantoic membrane egg test. Cytotoxic effects were observed by 3-(4,5-dimethyl-2-thiazolyl)-2,5-diphenyl-2H-tetrazolium bromide (MTT), lactate dehydrogenase release (LDH), which serves as a measure of cell membrane damage, changes in the mitotic index (MI) and proliferative rate index (PRI) assays. Oxidative changes were evaluated by the total antioxidant activity and the total oxidative status assay. Genotoxic damage was analyzed by chromosomal aberration and micronucleus assays. DMAA and its combination with caffeine (cDMAA) had no genotoxic effects. DMAA (1000 mg/L) and cDMAA (500 and 1000 mg/L) decreased cell viability while significantly increasing LDH activity, MI and the oxidative level. DMAA and cDMAA caused weak and moderate vascular irritant effects, respectively. In conclusion, DMAA exhibits cytotoxic effects via membrane dysfunction and mitotic disturbance following increased oxidative stress in a dose- and caffeine-dependent manner.
https://doi.org/10.2298/ABS200609035G
Received: June 9, 2020; Revised: August 4, 2020; Accepted: August 5, 2020; Published online: August 27, 2020
How to cite this article: Güner A, Türkez H. Examination of some toxicological parameters of dimethylamylamine when consumed alone or with caffeine. Arch Biol Sci. 2020;72(3):413-23.
Downloads
Download data is not yet available.
References
Charlier R. Pharmacology of 2‐amino‐4‐methylhexane. Arch Int Pharmacodyn Ther. 1950;83(4):573-84.
Lilly E. New and nonofficial remedies: methylhexamine; forthane. J Am Med Assoc. 1950;143(13):1156.
Venhuis BJ, de Kaste D. Scientific opinion on the regulatory status of 1,3‐Dimethylamylamine (DMAA). Eur Food Res Technol. 2012;2(4):93-100.
Greene SL. Miscellaneous. In: Dargan PI, Wood DM, editors. Novel Psychoactive Substances: Classification, Pharmacology and Toxicology. New York: Academic Press; 2013. p. 398-402.
Gee P, Jackson S, Easton J. Another bitter pill: a case of toxicity from DMAA party pills. N Z Med J. 2010;123(1327):124-7.
Dolan SB, Gatch MB. Abuse liability of the dietary supplement dimethylamylamine. Drug Alcohol Depend. 2015;146:97-102.
Gauthier TD. Evidence for the Presence of 1,3-Dimethylamylamine (1,3-DMAA) in Geranium Plant Materials. Anal Chem Insights. 2013;8(1):29-40.
Zhang Y, Woods RM, Breitbach ZS, Armstrong DW. 1,3‐Dimethylamylamine (DMAA) in supplements and geranium products: natural or synthetic? Drug Test Anal. 2012;4(12):986-90.
Cohen PA. DMAA as a dietary ingredient. Arch Intern Med. 2012;172(13):1038-9.
Lorenzo CD, Moro E, Dos Santos A, Uberti F, Restani P. Could 1,3 Dimethylamylamine (DMAA) in Food Supplements Have a Natural Origin? Drug Test Anal. 2013;5(2):116-21.
Prysby ND. DMAA products are food additives, not dietary supplements. Wolters Kluwer [Newspaper online]. 2019 September 3 [Cited 2020 February 27]. Available from: https://lrus.wolterskluwer.com/news/health-law-daily/dmaa-products-are-food-additives-not-dietary-supplements/93652/#:~:text=Prysby%2C%20J.D.,classified%20as%20a%20food%20additive.
Miya TS, Edwards LD. A pharmacological study of certain alkoxyalkylamines. J Am Pharm Assoc. 1953;42(2):107-10.
Budavari S. The Merck index-Encyclopedia of Chemicals, Drugs and Biologicals. New Jersey: Merck & Co Inc; 1989.
Forrester M. Exposures to 1,3-dimethylamylamine-containing products reported to Texas poison centers. Hum Exp Toxicol. 2013;32(1):18-23.
Eliason MJ, Eichner A, Cancio A, Lori B, Adams BD, Deuster PA. Case reports: Death of active duty soldiers following ingestion of dietary supplements containing 1,3-dimethylamylamine (DMAA). Mil Med. 2012;177(12):1455-9.
Bloomer RJ, Harvey IC, Farney TM, Bell ZW, Canale RE. Effects of 1,3- dimethylamylamine and caffeine alone or in combination on heart rate and blood pressure in healthy men and women. Physician Sportsmed. 2011;39(3):111-20.
Gee P, Tallon C, Long N, Moore G, Boet R, Jackson S. Use of recreational drug 1,3-dimethylethylamine (DMAA) associated with cerebral hemorrhage. Ann Emerg Med. 2012;60(4):431-4.
Palmer PGJr. Deadly dimethylamylamine: "health" supplements are killing consumers while current regulations impede FDA action. J Leg Med. 2014;35(2):311-36.
Docherty JR. Pharmacology of stimulants prohibited by the World Anti-Doping Agency (WADA). Br J Pharmacol. 2008;154(3):606-22.
Güner A, Türkez H, Aslan A. The in vitro effects of Dermatocarpon intestiniforme (a lichen) extracts against cadmium induced genetic and oxidative damage. Ekoloji. 2012;21(84):38-46.
Lee MK, Cheng BW, Che CT, Hsieh DP. Cytotoxicity assessment of Ma-Huang (Ephedra) under different conditions of preparation. Toxicol Sci. 2000;56(2):424-30.
Da Silva DD, Silva E, Carmo H. Cytotoxic Effects of Amphetamine Mixtures in Primary Hepatocytes Are Severely Aggravated Under Hyperthermic Conditions. Toxicol In Vitro. 2013;27(6):1670-8.
Weinstein D, Mauer I, Solomon HM. The effect of caffeine on chromosomes of human lymphocytes: In vivo and in vitro studies. Mutat Res-Fund Mol M. 1972;16(4):391-9.
Dambrosio SM. Evaluation of the Genotoxicity Data on Caffeine. Regul Toxicol Pharmacol. 1994;19(3):243-81.
Temple JL, Bernard C, Lipshultz SE, Czachor JD, Westphal JA, Mestre MA. The safety of ingested caffeine: a comprehensive review. Front Psychiatry. 2017;8:80.
Fenech M, Morley AA. Measurement of micronuclei in lymphocytes. Mutat Res. 1985;147(1-2):29-36.
Fenech M. The cytokinesis-block micronucleus technique: a detailed description of the method and its application to genotoxicity studies in human populations. Mutat Res. 1993;285(1):35-44.
Evans HJ, O'Riordan ML. Human peripheral blood lymphocytes for the analysis of chromosome aberrations in mutagen tests. Mutat Res. 1975;31(3):135-48.
Güner A, Polatlı E, Akkan T, Bektaş H, Albay C. Anticancer and antiangiogenesis activities of novel synthesized 2-substituted benzimidazoles molecules. Turk J Chem. 2019;43(5):1270-89.
Schilling BK, Hammond KG, Bloomer RJ, Presley RS, Yates CR. Physiological and pharmacokinetic effect of oral 1,3-dimethylamylamine administration in men. BMC Pharmacol Toxicol. 2013;14(1):1-10.
Pitaksalee R, Sanvarinda Y, Sinchai T, Sanvarinda P, Thampithak A, Jantaratnotai N, Jariyawat S, Tuchinda P, Govitrapong P, Sanvarinda P. Autophagy inhibition by caffeine increases toxicity of methamphetamine in SH-SY5Y neuroblastoma cell line. Neurotox Res. 2015;27(4):421-9.
El-Tawil OS, Abou-Hadeed AH, EL-Bab MF, Shalaby AA. D-Amphetamine-induced cytotoxicity and oxidative stress in isolated rat hepatocytes. Pathophysiology. 2011;18(4):279-85.
Türkez H, Aydin E. Anti-genotoxic role of eicosapentaenoic acid against imazalil-induced DNA damage in vitro. Toxicol Ind Health. 2012;29(7):584-90.
Dias TR, Alves MG, Bernardino RL, Martins AD, Moreira AC, Silva J, Barros A, Sousa M, Branca MS, Oliveira PF. Dose-dependent effects of caffeine in human Sertoli cells metabolism and oxidative profile: Relevance for male fertility. Toxicology. 2015;328:12-20.
Melchert RB, Welder AA. The combined effects of cocaine and amphetamine on primary postnatal rat heart cell cultures. Reprod Toxicol. 1992;6(6):467-73.
Cunha-Oliveira T, Rego AC, Cardoso SM, Borges F, Swerdlow RH, Macedo T, de Oliveira CR. Mitochondrial dysfunction and caspase activation in rat cortical neurons treated with cocaine or amphetamine. Brain Res. 2006;1089(1):44-54.
Lee AY, Jang Y, Hong SH, Chang SH, Park S, Kim S, Kang KS, Kim JE, Cho MH. Ephedrine-induced mitophagy via oxidative stress in human hepatic stellate cells. J Toxicol Sci. 2017;42(4):461-73.
Lotharius J, O'Malley KL. Role of mitochondrial dysfunction and dopamine-dependent oxidative stress in amphetamine-induced toxicity. Ann Neurol. 2001;49(1):79-89.
Haller CA, Jacob P3rd, Benowitz NL. Enhanced stimulant and metabolic effects of combined ephedrine and caffeine. Clin Pharmacol Ther. 2004;75(4):259-73.
Yang X, Wang Y, Li Q, Zhong Y, Chen L, Du Y, He J, Liao L, Xiong K, Yi CX, Yan J. The main molecular mechanisms underlying methamphetamine-induced neurotoxicity and implications for pharmacological treatment. Front Mol Neurosci. 2018;11:186.
Kusano C, Ferrari B. Total antioxidant capacity: a biomarker in biomedical and nutritional studies. Cell Mol Biol Lett. 2008;7(1):1-15.
Zovico PVC, Curty VM, Leal MAS, Meira EF, Dias DV, de Melo Rodrigues LC, Meyrelles SDS, De Oliveira EM, Vassallo PF, Barauna VG. Effects of controlled doses of Oxyelite Pro on physical performance in rats. Nutr Metab. 2016;13(1):1-10.
Devasagaya TP, Kamat JP, Mohan H, Kesavan PC. Caffeine as an antioxidant: inhibition of lipid peroxidation induced by reactive oxygen species. Biochim Biophys Acta. 1996;1282(1):63-70.
Azam S, Hadi N, Khan NU, Hadi SM. Antioxidant and prooxidant properties of caffeine, theobromine and xanthine. Med Sci Monit. 2003;9(9):BR325-30.
Sarangarajan R, Meera S, Rukkumani R, Sankar P, Anuradha G. Antioxidants: friend or foe? Asian Pac J Trop Med. 2017;10(12):1111-6.
Perrenoud L, Saugy M, Saudan C. Detection in urine of 4-methyl-2-hexaneamine, a doping agent. J Chromatogr B. 2009;877(29):3767-70.
Lisi A, Hasick N, Kazlauskas R, Goebel C. Studies of methylhexanamine in supplements and geranium oil. Drug Test Anal. 2011;3(11-12):873-6.
Türkez H, Toğar B. The genotoxic and oxidative damage potential of olanzapine in vitro. Toxicol Ind Health. 2010;26(9):583-8.
Witt KL, Shelby MD, Itchon-Ramos N, Faircloth M, Kissling GE, Chrisman AK, Ravi H, Murli H, Mattison DR, Kollins SH. Methylphenidate and amphetamine do not induce cytogenetic damage in lymphocytes of children with ADHD. J Am Acad Child Adolesc Psychiatry. 2008;47(12):1375-83.
Kishore AS, Surekha PA, Sekhar PVR, Srinivas A, Murthy PB. Hen egg chorioallantoic membrane bioassay: An in vitro alternative to Draize eye irritation test for pesticide screening. Int J Toxicol. 2008;27(6):449-53.
Smith TB, Staub BA, Natarajan GM, Lasorda DM, Poornima IG. Acute myocardial infarction associated with dietary supplements containing 1,3-dimethylamylamine and Citrus aurantium. Tex Heart Inst J. 2014;41(1):70-2.
Foley S, Butlin E, Shields W, Lacey B. Experience with OxyELITE pro and acute liver injury in active duty service members. Dig Dis Sci. 2014;59(12):3117-21.
Young C, Oladipo O, Frasier S, Putko R, Chronister S, Marovich M. Hemorrhagic stroke in young healthy male following use of sports supplement Jack3d. Mil Med. 2012;177(12):1450-4.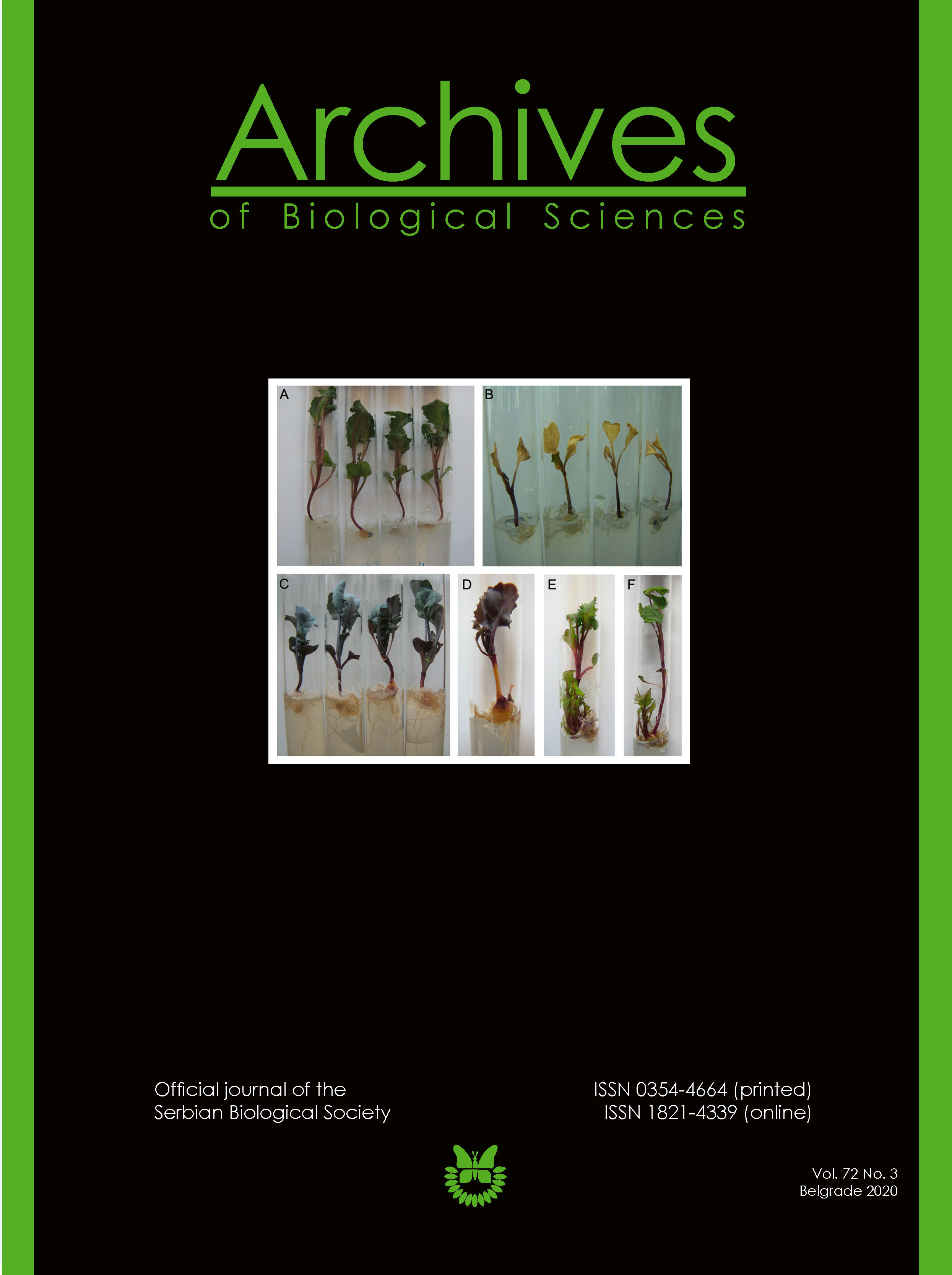 Downloads
How to Cite
1.
Güner A, Türkez H. Examination of some toxicological parameters of dimethylamylamine when consumed alone or with caffeine. Arch Biol Sci [Internet]. 2020Oct.19 [cited 2022Aug.7];72(3):413-2. Available from: https://www.serbiosoc.org.rs/arch/index.php/abs/article/view/5589