Immunomodulatory effect of the hydroalcoholic extract of Abrus precatorius L. leaves against cyclophosphamide-induced immunosuppression in mice
Keywords:
Abrus precatorius, immunomodulatory, cyclophosphamide, immunity, LC-QTOF-MS
Abstract
Paper description:
The immunomodulatory activity of Abrus precatorius , which is traditionally used to treat different ailments, has not been examined.
BALB/c mice were given per os the hydro-alcoholic extract of precatorius leaves against cyclophosphamide-induced immunosuppression. Parameters, including splenocyte proliferation, haemagglutination (HA titer), delayed-type hypersensitivity, interleukin-2 level, neutrophil adhesion and the histopathology of spleen, liver and kidney were examined.
The leaf extract stimulated T-lymphocytes, improved HA titer, total protein and interleukin-2 level.
precatorius leaves are a good candidate for a new immunomodulatory herbal formulation.
Abstract: This study presents the immunomodulatory potential of Abrus precatorius Linn. (Indian wild licorice) leaves. A hydroalcoholic extract of A. precatorius leaves (EAPL) was prepared by maceration. Thirty male mice were divided into five groups as follows: control group, model control group (cyclophosphamide-treated), and three treatment groups (treated with EAPL at doses of 100, 200 and 300 mg/kg, per os, daily for 14 days). Parameters, including hematological, biochemical, organ indices, hemagglutination test (HA titer), delayed-type hypersensitivity (DTH), interleukin-2 (IL-2) level, splenocyte proliferation and liquid chromatography quadrupole time-of-flight mass spectrometry (LC-QTOF-MS) analysis were evaluated. Histopathological examination was carried out for the spleen, kidney and liver. Cyclophosphamide (CPMD)-induced changes in white blood cells, lymphocytes and platelets were improved in the treatment groups. Total protein and albumin levels in the treatment groups were significantly higher. EAPL treatment significantly stimulated splenic T-lymphocyte-mediated proliferation. Neutrophil adhesion was insignificantly decreased in the model control group compared to the normal control group, which was slightly improved by EAPL treatment. EAPL treatment significantly improved the HA titer and cell-mediated immunity, which is an indication of antibody production. The IL-2 level was significantly higher in the treatment groups that received 200 and 300 mg/kg EAPL. LC-QTOF-MS analysis of EAPL showed the presence of flavonoids, lignans, iridoids and phenolic glycosides. These results suggest that A. precatorius leaves are a good candidate for a new immunomodulatory herbal formulation.
Downloads
Download data is not yet available.
References
Jantan I, Ahmad W, Bukhari SNA. Plant-derived immunomodulators: an insight on their preclinical evaluation and clinical trials. Front Plant Sci. 2015;6:655. https://doi.org/10.3389/fpls.2015.00655
Gogte VM. Ayurvedic Pharmacology and therapeutic uses of medicinal plants (Dravyaguna Vignyam). Mumbai, India: Chaukhambha Publishers; 2000. 600-601 p.
Mensah AY, Bonsu AS, Fleischer TC. Investigation of the Bronchodilator activity of Abrus Precatorius. Int J Pharm Sci Rev Res. 2011;6(2):9-13.
Arora R, Gill N, Kaur S, Jain A. Phytopharmacological Evaluation of Ethanolic Extract of the Seeds of Abrus precatorius Linn. J Pharmacol Toxicol. 2011;6:580-8. https://doi.org/10.3923/jpt.2011.580.588
Adelowotan O, Aibinu I, Adenipekun E, Odugbemi T. The in-vitro antimicrobial activity of Abrus precatorius (L) Fabaceae extract on some clinical pathogens. Niger Postgrad Med J. 2008;15(1):32-7.
Georgewill OA, Georgewill UO. Evaluation of the anti-inflammatory activity of extract of Abrus precatorious. Eastern J Med. 2009;14:23-5.
Saganuwan SA, Onyeyili PA, Ameh EG, Etuk EU. In vivo antiplasmodial activity by aqueous extract of Abrus precatorius in mice. Rev Latinoam Quím. 2011;39(1-2):32-44.
Premanand R, Ganesh T. Neuroprotective effects of Abrus precatorius Linn. aerial extract on hypoxic neurotoxicity induced rats. Int J Chem Pharma Sci. 2010;1(1):9-15.
Ae L, Bnrl J, Nf N. Protective effect of Abrus precatorius seed extract following alcohol induced renal damage. Eur J Sci Res. 2009;25(3):428-36.
Garaniya N, Bapodra A. Ethno botanical and Phytopharmacological potential of Abrus precatorius L.: A review. Asian Pac J Trop Biomed. 2014; 4(Suppl 1):S27-34. https://doi.org/10.12980/APJTB.4.2014C1069
Otsuka H. Purification by Solvent Extraction Using Partition Coefficient. In: Sarker SD, Latif Z, Gray A, editors. Methods in Biotechnology: Natural Products Isolation. Totowa, New Jersey: Humana Press; 2006. p. 269-73.
Zheng Y, Wang W, Li Y. Antitumor and immunomodulatory activity of polysaccharide isolated from Trametes orientalis. Carbohydr Polym. 2015;131:248-54. https://doi.org/10.1016/j.carbpol.2015.05.074
Liu K, Ren X, You Q, Gu M, Wang F, Wang S, Ma C, Li W, Ye Q. Ameliorative Effect of Dangguibuxue Decoction against Cyclophosphamide-Induced Heart Injury in Mice. BioMed Res Int. 2018;2018:8503109. https://doi.org/10.1155/2018/8503109.
Raj S, Gothandam KM. Immunomodulatory activity of methanolic extract of Amorphophallus commutatus var. wayanadensis under normal and cyclophosphamide induced immunosuppressive conditions in mice models. Food Chem Toxicol. 2015;81:151-9. https://doi.org/10.1016/j.fct.2015.04.026
Puri A, Saxena R, Saxena RP, Saxena KC, Srivastava V, Tandon JS. Immunostimulant agents from Andrographis paniculata. J Nat Prod. 1993;56(7):995-9. https://doi.org/10.1021/np50097a002
Doherty NS. Selective effects of immunosuppressive agents against the delayed hypersensitivity response and humoral response to sheep red blood cells in mice. Agents Actions. 1981;11(3):237-42. https://doi.org/10.1007/BF01967620
Kumar VP, Venkatesh YP. Alleviation of cyclophosphamide-induced immunosuppression in Wistar rats by onion lectin (Allium cepa agglutinin). J Ethnopharmacol. 2016;186:280-8. https://doi.org/10.1016/j.jep.2016.04.006
Luna LG. Manual of histologic staining methods of the armed forces institute of pathology. 3rd ed. New York: McGraw-Hill; 1968.
Chen Y, Xie W, Qu C, Zheng J, Jin S, Li H, Li H, Jin G, Meng F, Jin D. Immunoenhancement of dried cod skin collagen Oligo-peptides on cyclophosphamide-induced immunosuppression in mice. Int J Clin Exp Med. 2019;12(6):7047-55.
Zhang Z, Pan T, Liu C, Shan X, Xu Z, Hong H, Lin H, Chen J, Sun H. Cyclophosphamide induced physiological and biochemical changes in mice with an emphasis on sensitivity analysis. Ecotoxicol Environ Saf. 2021;211:111889. https://doi.org/10.1016/j.ecoenv.2020.111889
Molyneux G, Andrews M, Sones W, York M, Barnett A, Quirk E, Yeung W, Turton J. Haemotoxicity of busulphan, doxorubicin, cisplatin and cyclophosphamide in the female BALB/c mouse using a brief regimen of drug administration. Cell Biol Toxicol. 2011;27:13-40. https://doi.org/10.1007/s10565-010-9167-1
Ukpo GE, Ehianeta TS, Adegoke YS, Salako OA. Evaluation of the Haematological and biochemical effects of Averon®, an herbal formulation, against Cyclophosphamide-induced immunomodulated male Rats. Int J Pharm Sci Res 2013;4(9):3556-62. http://dx.doi.org/10.13040/IJPSR.0975-8232.4(9).3556-62
Anafi SB, Kwanashie HO, Anuka JA, Muktar HM, Agbaji AS. Changes in immunological and haematological parameters associated with cyclophophamide and methotrexate administration in Wistar Rats. Niger J Pharm Sci. 2013;12(1):1-8.
Liu N, Dong Z, Zhu X, Xu H, Zhao Z. Characterization and protective effect of Polygonatum sibiricum polysaccharide against cyclophosphamide induced immunosuppression in Balb/c mice. Int J Biol Macromol. 2018;107:796-802. https://doi.org/10.1016/j.ijbiomac.2017.09.051
Osama A, Fatma A, Mohamed E, Hamed MF, Hamzah O. Studying the effect of Echinacea purpurea root on hematological, biochemical and histopathological alterations in cyclophosphamide treated Rats. Ann Vet Anim Sci. 2015; 3(2): 63-72.
El-Karim DRS, El-Amraw G. Cyclophosphamide hepatotoxicity: the role of 4-hydroxynonenal and cytochrome c oxidase and the possible protective effect of Ganoderma lucidum extract. Slov Vet Res. 2019;56(Suppl 22):15-23. https://doi.org/10.26873/SVR-740-2019
Chaplin DD. Overview of the immune response. J Allergy Clin Immunol. 2010;125(Suppl 2):S3-23. https://doi.org/10.1016/j.jaci.2009.12.980
Hsieh CH, Hsu JT, Hsieh YC, Frink M, Raju R, Hubbard WJ, Bland KI, Chaudry IH. Suppression of activation and costimulatory signaling in splenic CD4+ T cells after trauma-hemorrhage reduces T-cell function: a mechanism of post-traumatic immune suppression. Am J Pathol. 2009;175(4):1504-14. https://doi.org/10.2353/ajpath.2009.081174
Bemer V, Truffa-Bachi P. T cell activation by concanavalin A in the presence of cyclosporin A: immunosuppressor withdrawal induces NFATp translocation and interleukin-2 gene transcription. Eur J Immunol. 1996;26(7):1481-8. https://doi.org/10.1002/eji.1830260712
Soehnlein O, Kenne E, Rotzius P, Eriksson EE, Lindbom L. Neutrophil
secretion products regulate anti-bacterial activity in monocytes and macrophages. Clin Exp Immunol. 2008;151:139-45. http://dx.doi.org/10.1111/j.1365-2249.2007.03532.x
Thuvander A, Breitholtz-Emanuelsson A, Olsen M. Effects of ochratoxin a on the mouse immune system after subchronic exposure. Food Chem Toxicol. 1995;33(12):1005-11. https://doi.org/10.1016/0278-6915(95)00075-5
Ramanatha KR, Lakshminaryana R, Gopal T. Potency test of Duck Pasteurella vaccine in mice. Mysore J Agri Sci. 1995;29:155-7.
Schooltink H, Rose-John S. Cytokines as therapeutic drugs. J Interferon Cytokine Res. 2002;22(5):505-16. https://doi.org/10.1089/10799900252981981
Arenas-Ramirez N, Woytschak J, Boyman O. Interleukin-2: Biology, Design and Application. Trends Immunol. 2015;36 (12):763-77. https://doi.org/10.1016/j.it.2015.10.003
Qiuchen Q, Zhonghua D, Yueyue S, Siying L, Zhongxi Z. Protective effect of Bergenin against cyclophosphamide-Induced Immunosuppression by Immunomodulatory effect and antioxidation in Balb/c Mice. Molecules. 2018;23(10):2668. https://doi.org/10.3390/molecules23102668
Rabinovitch A, Sorensen O, Suarez-Pinzon WL, Power RF, Rajotte RV, Bleackley RC. Analysis of cytokine mRNA expression in syngeneic islet grafts of NOD mice: Interleukin 2 and interferon gamma mRNA expression correlate with graft rejection and interleukin 10 with graft survival. Diabetologia .1994;37:833-7. https://doi.org/10.1007/BF00404341
Bachmann MF, Oxenius A. Interleukin 2: from immunostimulation to immunoregulation and back again. EMBO Rep. 2007;8(12):1142-8. https://doi.org/10.1038/sj.embor.7401099
Kim JW, Choi JS, Seol DJ, Choung JJ, Ku SK. Immunomodulatory Effects of Kuseonwangdogo-Based Mixed Herbal Formula Extracts on a Cyclophosphamide-Induced Immunosuppression Mouse Model. Evid Based Complement Alternat Med. 2018;2018:6017412. https://doi.org/10.1155/2018/6017412
Mansour DF, Salama AA, Hegazy R, Omara E, Nada S. Whey protein isolate protects against cyclophosphamide-induced acute liver and kidney damage in rats. J Appl Pharm. Sci. 2017;7:111-20.
Duggina P, Kalla CM, Varikasuvu SR, Bukke S, Tartte V. Protective effect of centella triterpene saponins against cyclophosphamide-induced immune and hepatic system dysfunction in rats: its possible mechanisms of action. J Physiol Biochem. 2014;71:435-54. https://doi.org/10.1007/s13105-015-0423-y
Dou X, Zhang Y, Sun N, Wu Y, Li L. The anti-tumor activity of Mikania micrantha aqueous extract in vitro and in vivo. Cytotechnol. 2014;66:101-17. https://doi.org/10.1007/s10616-013-9543-9
Kuo SC, Chen SC, Chen LH, Wu JB, Wang JP, Teng CM. Potent antiplatelet, anti-inflammatory and antiallergic isoflavanquinones from the roots of Abrus precatorius. Planta Med. 1995;61(4):307-12. https://doi.org/10.1055/s-2006-958089
Wang J, Hsu M, Kuo S. Inhibition by abruquinone A of phosphoinositide-specific phospholipase C activation in rat neutrophils. Eur J Pharmacol. 1997;319(1):131-6. https://doi.org/10.1016/S0014-2999(96)00836-9
Viljoen A, Mncwangi N, Vermaak I. Anti-inflammatory iridoids of botanical origin. Curr Med Chem. 2012;19(14):2104-27. https://doi.org/10.2174/092986712800229005
Bansod MS, Kagathra VG, Somkuwar AD. Evaluation of Analgesics and Anti-inflammatory Activity of a Poly-Herbal Formulation. Int J PharmTech Res. 2010;2(2):1520-7.
Ming DS, Guns E, Eberding A, Towers GH. Isolation and Characterization of Compounds with Anti-prostate Cancer Activity from Arctium lappa L. Using Bioactivity-guided Fractionation. Pharm Biol. 2004; 42(1):44-8. https://doi.org/10.1080/13880200490505474
Sun Q, Liu K, Shen X, Jiang L, Sheikh MS, Hu Y, Huang Y. Lappaol F, a Novel Anticancer Agent Isolated from Plant Arctium Lappa L. Mol. Cancer Ther. 2013;13(1):49-59. http://dx.doi.org/10.1158/1535-7163.MCT-13-0552
Kim SB, Chang BY, Han S, Hwang BY, Kim YS, Lee MK. A new phenolic glycoside from Cnidium monnieri fruits. Nat Prod Res. 2013;27(21):1945-8. https://doi.org/10.1080/14786419.2013.796467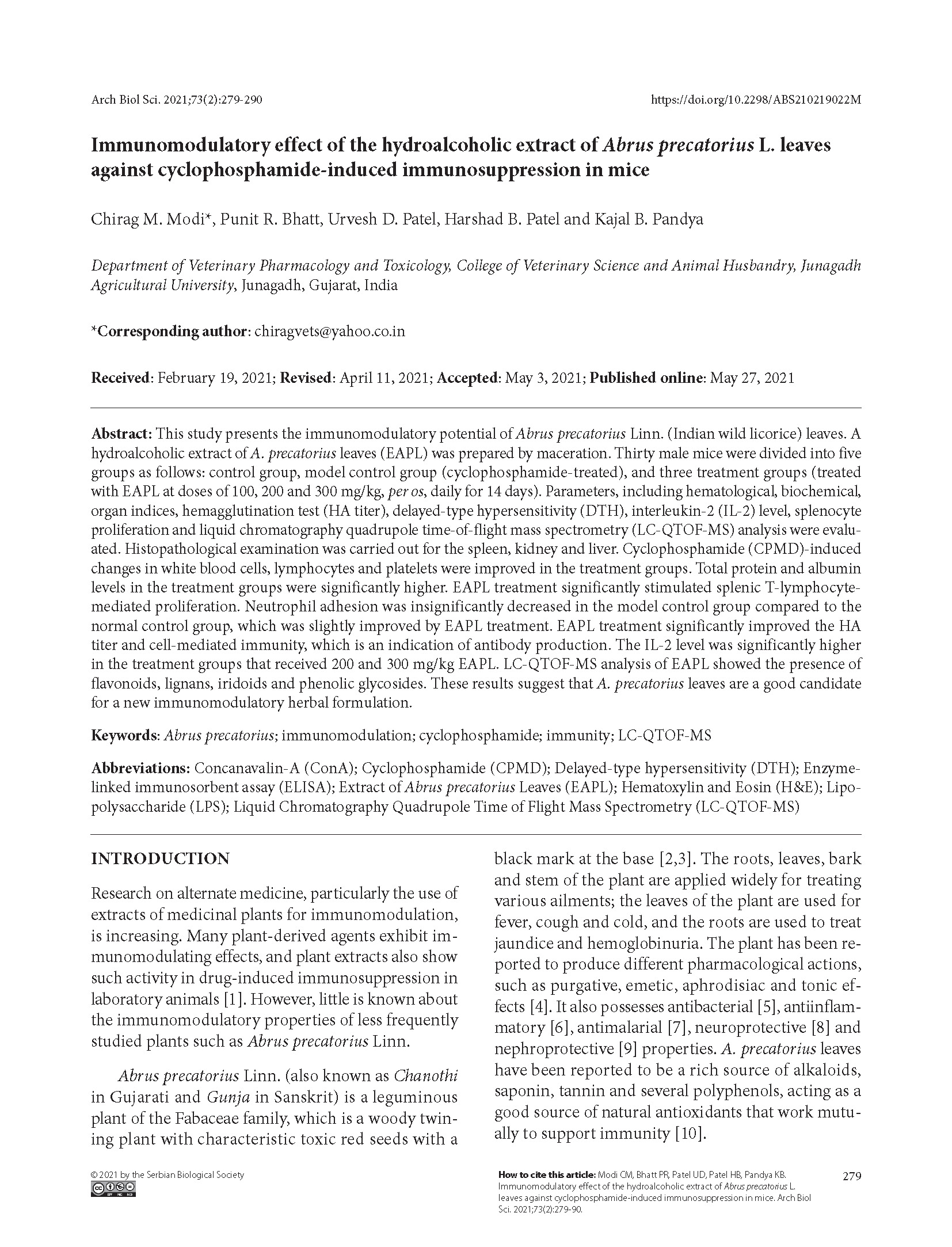 Downloads
How to Cite
1.
Modi CM, Bhatt PR, Patel UD, Patel HB, Pandya KB. Immunomodulatory effect of the hydroalcoholic extract of Abrus precatorius L. leaves against cyclophosphamide-induced immunosuppression in mice. Arch Biol Sci [Internet]. 2021Jul.13 [cited 2022Aug.7];73(2):279-90. Available from: https://www.serbiosoc.org.rs/arch/index.php/abs/article/view/6302
License
Copyright (c) 2021 Archives of Biological Sciences
This work is licensed under a Creative Commons Attribution-NonCommercial-NoDerivatives 4.0 International License.