Buyuan decoction inhibits autophagy in a rat model of chronic obstructive pulmonary disease
Keywords:
Buyuan decoction, Chronic obstructive pulmonary disease, Autophagy, PI3K pathway, lipopolysaccharide
Abstract
Paper description:
Drugs used in chronic obstructive pulmonary disease (COPD) treatment exhibit side effects. Autophagy participates in COPD regulation. Exposure to cigarette smoke causes COPD initiation and progression and increased expression of autophagy markers.
The mechanism of Buyuan decoction treatment on autophagy in COPD was investigated in an experimental model in Sprague-Dawley rats in which COPD was induced by lipopolysaccharide injection and cigarette smoke exposure.
Buyuan decoction suppresses autophagy in COPD by regulating the expression of autophagy-related proteins LC3-II/I, BNIP-1, ATG7 and p62, and inhibiting PI3K pathway activation.
The findings contribute to a novel therapeutic approach for COPD.
Abstract: Efforts have been made to find a better therapeutic approach with fewer side effects in treating chronic obstructive pulmonary disease (COPD). This study investigated the effect of Buyuan decoction (BYD) on autophagy in COPD rats. An experimental model with Sprague-Dawley rats was established by lipopolysaccharide (LPS) injection and cigarette smoke exposure. Rats were randomly allocated into blank control (normal control), experimental model, low-dose BYD (8.0 g/kg/day), medium-dose BYD (16.0 g/kg/day), high-dose BYD (32.0 g/kg/day) and 3-MA (methyladenine) groups (6 rats/group). Cell and tissue morphology were observed using hematoxylin and eosin staining. Autophagic vesicles were examined with a transmission electron microscope. Protein expression of LC3-II/I, BNIP-1, ATG7, p62, PI3K and p-PI3K in lung tissue was detected by Western blotting. Compared with the experimental model group, the inflammatory infiltrate in lung tissue was reduced, the nuclei of the pulmonary epithelial cells were restored to normal, and the expression of LC3, BNIP1, ATG7 and p-PI3K was significantly downregulated, while p62 expression was significantly upregulated after treatment with the BYD. The effect was most significant in the low-dose BYD group (P<0.05, all groups). These findings suggest that the BYD inhibits the occurrence of autophagy in the pathogenesis of COPD and that it can be a potential treatment.
Downloads
Download data is not yet available.
References
Alotaibi NM, Chen V, Hollander Z, Hague CJ, Murphy DT, Leipsic JA, DeMarco ML, FitzGerald JM, McManus BM, Ng RT, Sin DD. Phenotyping COPD exacerbations using imaging and blood-based biomarkers. Int J Chron Obstruct Pulmon Dis. 2018;13:217-29. https://doi.org/10.2147/COPD.S152484
Wacker ME, Jörres RA, Karch A, Wilke S, Heinrich J, Karrasch S, Koch A, Schulz H, Watz H, Leidl R, Vogelmeier C, Holle R; COSYCONET-Consortium. Assessing health-related quality of life in COPD: comparing generic and disease-specific instruments with focus on comorbidities. BMC Pulm Med. 2016;16(1):70. https://doi.org/10.1186/s12890-016-0238-9
MacIntyre N, Huang YC. Acute exacerbations and respiratory failure in chronic obstructive pulmonarydisease. Proc Am Thorac Soc. 2008;5(4):530-5. https://doi.org/10.1513/pats.200707-088ET
Fernandez-Granero MA, Sanchez-Morillo D, Leon-Jimenez A. An artificial intelligence approach to early predict symptom-based exacerbations of COPD. Biotechnol Biotechnol Equip. 2018;32(3):778-84. https://doi.org/10.1080/13102818.2018.1437568
Jolly K, Sidhu MS, Hewitt CA, Coventry PA, Daley A, Jordan R, Heneghan C, Singh S, Ives N, Adab P, Jowett S, Varghese J, Nunan D, Ahmed K, Dowson L, Fitzmaurice D. Self-management of patients with mild COPD in primary care: randomised controlled trial. BMJ 2018;361:k2241. https://doi.org/10.1136/bmj.k2241
Liao SX, Sun PP, Gu YH, Rao XM, Zhang LY, Ou-Yang Y. Autophagy and pulmonary disease. Ther Adv Respir Dis. 2019;13:1753466619890538. https://doi.org/10.1177/1753466619890538
Tan WSD, Shen HM, Wong WSF. Dysregulated autophagy in COPD: A pathogenic process to be deciphered. Pharmacol Res. 2019;144:1-7. https://doi.org/10.1016/j.phrs.2019.04.005
Levine B, Kroemer G. Autophagy in the pathogenesis of disease. Cell. 2008;132(1):27-42. https://doi.org/10.1016/j.cell.2007.12.018
Postma DS, Bush A, van den Berge M. Risk factors and early origins of chronic obstructive pulmonary disease. Lancet. 2015;385(9971):899-909. https://doi.org/10.1016/S0140-6736(14)60446-3
Bodas M, Vij N. Augmenting autophagy for prognosis based intervention of COPD-pathophysiology. Respir Res. 2017;18(1):83. https://doi.org/10.1186/s12931-017-0560-7
Ryter SW, Chen ZH, Kim HP, Choi AM. Autophagy in chronic obstructive pulmonary disease: homeostatic or pathogenic mechanism? Autophagy. 2009;5(2):235-7. https://doi.org/10.4161/auto.5.2.7495
Chen ZH, Kim HP, Sciurba FC, Lee SJ, Feghali-Bostwick C, Stolz DB, Dhir R, Landreneau RJ, Schuchert MJ, Yousem SA, Nakahira K, Pilewski JM, Lee JS, Zhang Y, Ryter SW, Choi AM. Egr-1 regulates autophagy in cigarette smoke-induced chronic obstructive pulmonary disease. PLoS One. 2008;3(10):e3316. https://doi.org/10.1371/journal.pone.0003316
Kim V, Desai P, Newell JD, Make BJ, Washko GR, Silverman EK, Crapo JD, Bhatt SP, Criner GJ; COPD Gene Investigators. Airway wall thickness is increased in COPD patients with bronchodilator responsiveness. Respir Res. 2014;15(1):84. https://doi.org/10.1186/s12931-014-0084-3
Calverley PM. The role of corticosteroids in chronic obstructive pulmonary disease. Semin Respir Crit Care Med. 2005;26(2):235-45. https://doi.org/10.1055/s-2005-869542
Wang H, Mao B, Chen C. Xiaoqinglong decoction attenuates chronic obstructive pulmonary disease in rats via inhibition of autophagy. Evid Based Complement Alternat Med. 2018;2018:6705871. https://doi.org/10.1155/2018/6705871
Jin Y, Qu C, Tang Y, Pang H, Liu L, Zhu Z, Shang E, Huang S, Sun D, Duan JA. Herb pairs containing Angelicae Sinensis Radix (Danggui): A review of bio-active constituents and compatibility effects. J Ethnopharmacol. 2016;181:158-71. https://doi.org/10.1016/j.jep.2016.01.033
Wang LH, Zhang YB, Lan ZH. Treating chronic obstructive pulmonary disease by treating both deficiency and excess. China J Tradit Chin Med Pharm. 2010; 25(3):386-8. Chinese.
Lan ZH, Chen ZS, Song WL, Huang CY, Liu LJ. Influence of Tonifying Zongqi formula in chronic obstructive pulmonary disease rats about the nutritional status and the level of serum prealbumin, leptin, TNF-α and myostatin. China J Tradit Chin Med Pharm. 2018;33(12):5381-5. Chinese.
Song WL, Chen ZS, Chen YS, Gong L, Lan ZH. Study on the influence of tonifying ZongQi in chronic obstructive pulmonary disease rats about the nutritional status and the level of serum prealbumin and TNF-α. J Jiangxi Univ Tradit Chin Med. 2018;30(2):86-90. Chinese.
Lan Z, Zhong L, Chen Z, Li Q, He D, Guo G. Effect of tonifying Zong Qi on chronic obstructive pulmonary disease remodeling of asthma rats. Chin Arch Tradit Chin Med. 2015;33(11):2659-61. Chinese.
Guo GZ, Song WL, Gan TM, Lan ZH. Research on mechanism of intervening airway remodeling of COPD rats with Buyi Zongqi formula based on MMP-9/TIMP-1 imbalance. China J Tradit Chin Med Pharm. 2016;31(11):4678-80. Chinese.
Ye C, Xue H, Fu B, Chen G, Zhang Y, Lan Z, Shu Y. The clinical study of Buyuan decoction interfering in the chronic obstructive pulmonary disease in stable phase. J Jiangxi Univ Tradit Chin Med. 2010;22(1):54-7. Chinese.
Hong DY, Lian YS, Shen LD. Codonopsis Wall (Campanulaceae). In: Editorial Committee of China Flora, editors. Flora of China. Vol. 73. Beijing: Science Press; 1983. p. 32-69.
Gu Y, Wang T, Chen J, Zhou Z, Wang Y, Chen J, Liu N, Jiang Z. The Chinese herb Codonopsis pilosula isolate isorhapontigenin protects against oxidative stress injury by inhibiting the activation of PI3K/Akt signaling pathway. J Integr Neurosci. 2020;19(2):333-40. https://doi.org/10.31083/j.jin.2020.02.1152
Zhu B, Zhang QL, Hua JW, Cheng WL, Qin LP. The traditional uses, phytochemistry, and pharmacology of Atractylodes macrocephala Koidz.: A review. J Ethnopharmacol. 2018;226:143-67. https://doi.org/10.1016/j.jep.2018.08.023
Jung Y, Jerng U, Lee S. A systematic review of anticancer effects of radix astragali. Chin J Integr Med. 2016;22(3):225-36. https://doi.org/10.1007/s11655-015-2324-x
Wang X, Li Y, Liu D, Wang Y, Ming H. Astragalus polysaccharide inhibits autophagy and regulates expression of autophagy-related proteins in lung cancer A549 cells induced by xanthine oxidase. Chin J Cell Mol Immunol. 2019;35(7):619-24. Chinese.
Ma TT, Feng XZ, Wang XY. [Effects and mechanism of Angelicae Sinensis Radix on Th1/Th2 and Th17/Treg in mice with asthma and Yin deficiency syndrome]. China J Chin Materia Medica 2017;42(4):758-62. Chinese.
Qi H, Jiang Z, Wang C, Yang Y, Li L, He H, Yu Z. Sensitization of tamoxifen-resistant breast cancer cells by Z-ligustilide through inhibiting autophagy and accumulating DNA damages. Oncotarget 2017;8(17):29300-17. https://doi.org/10.18632/oncotarget.16832
Kim SJ, Kim MS. Inhibitory effects of cimicifugae rhizoma extracts on histamine, bradykinin and COX-2 mediated inflammatory actions. Phytother Res. 2000;14(8):596-600. https://doi.org/10.1002/1099-1573(200012)14:8<596::AID-PTR731>3.0.CO;2-V
Sun H, Huang M, Yao N, Hu J, Li Y, Chen L, Hu N, Ye W, Chi-Shing Tai W, Zhang D, Chen S. The cycloartane triterpenoid ADCX impairs autophagic degradation through Akt overactivation and promotes apoptotic cell death in multidrug-resistant HepG2/ADM cells. Biochem Pharmacol. 2017;146:87-100. https://doi.org/10.1016/j.bcp.2017.10.012
Yang F, Dong X, Yin X, Wang W, You L, Ni J. Radix Bupleuri: A review of traditional uses, botany, phytochemistry, pharmacology, and toxicology. Biomed Res Int. 2017;2017:7597596. https://doi.org/10.1155/2017/7597596
Fu R, Zhang L, Li Y, Li B, Ming Y, Li Z, Xing H, Chen J. Saikosaponin D inhibits autophagosome‑lysosome fusion and induces autophagy‑independent apoptosis in MDA‑MB‑231 breast cancer cells. Mol Med Rep. 2020;22(2):1026-34. https://doi.org/10.3892/mmr.2020.11155
Ko KM, Leung HY. Enhancement of ATP generation capacity, antioxidant activity and immunomodulatory activities by Chinese Yang and Yin tonifying herbs. Chin Med. 2007;2:3. https://doi.org/10.1186/1749-8546-2-3
Ma X, Liu J, Yang L, Zhang B, Dong Y, Zhao Q. Cynomorium songaricum prevents bone resorption in ovariectomized rats through RANKL/RANK/TRAF6 mediated suppression of PI3K/AKT and NF-κB pathways. Life Sci. 2018;209:140-8. https://doi.org/10.1016/j.lfs.2018.08.008
Dong Y, Feng ZL, Chen HB, Wang FS, Lu JH. Corni Fructus: a review of chemical constituents and pharmacological activities. Chin Med. 2018;13:34. https://doi.org/10.1186/s13020-018-0191-z
Qu YJ, Zhen RR, Zhang LM, Gu C, Chen L, Peng X, Hu B, An HM. Uncovering the active compounds and effective mechanisms of the dried mature sarcocarp of Cornus officinalis Sieb. Et Zucc. For the treatment of Alzheimer's disease through a network pharmacology approach. BMC Complement Med Ther. 2020;20(1):157. https://doi.org/10.1186/s12906-020-02951-2
Yu X, Sun S, Guo Y, Liu Y, Yang D, Li G, Lü S. Citri Reticulatae Pericarpium (Chenpi): Botany, ethnopharmacology, phytochemistry, and pharmacology of a frequently used traditional Chinese medicine. J Ethnopharmacol. 2018;220:265-82. https://doi.org/10.1016/j.jep.2018.03.031
Yang M, Jin Y, Yang LP. A systematic summary of natural compounds in Radix Glycyrrhizae. Tradit Med Res. 2018;3(2):82-94. https://doi.org/10.53388/TMR201810067
Wang CY, Kao TC, Lo WH, Yen GC. Glycyrrhizic acid and 18β-glycyrrhetinic acid modulate lipopolysaccharide-induced inflammatory response by suppression of NF-κB through PI3K p110δ and p110γ inhibitions. J Agric Food Chem. 2011;59(14):7726-33. https://doi.org/10.1021/jf2013265
Myou S, Leff AR, Myo S, Boetticher E, Tong J, Meliton AY, Liu J, Munoz NM, Zhu X. Blockade of inflammation and airway hyperresponsiveness in immune-sensitized mice by dominant-negative phosphoinositide 3-kinase-TAT. J Exp Med. 2003;198(10):1573-82. https://doi.org/10.1084/jem.20030298
Sarc I, Ziherl K, Esquinas AM. How important is oxygen titration in hypercapnic COPD exacerbation? Wien Klin Wochenschr. 2019;131(5-6):132-3. https://doi.org/10.1007/s00508-019-1464-y
He F, Liao B, Pu J, Li C, Zheng M, Huang L, Zhou Y, Zhao D, Li B, Ran P. Exposure to ambient particulate matter induced COPD in a rat model and a description of the underlying mechanism. Sci Rep. 2017;7:45666. https://doi.org/10.1038/srep45666
Zhang K, Guo L, Wei Q, Song Q, Liu J, Niu J, Zhang L, Ruan Y, Luo B. COPD rat model is more susceptible to cold stress and PM2.5 exposure and the underlying mechanism. Environ Pollut. 2018;241:26-34. https://doi.org/10.1016/j.envpol.2018.05.034
Qiu T, Qiu C, Mo X, Yang F. Clinical observation on Yiqi Jianpi Buyuan decoction myasthenia gravis with Qi deficiency. Chin J Tradit Med Sci Tech. 2015;22(6):710-1. Chinese.
Li J, Yang D, Wang W, Piao S, Zhou J, Saiyin W, Zheng C, Sun H, Li Y. Inhibition of autophagy by 3-MA enhances IL-24-induced apoptosis in human oral squamous cell carcinoma cells. J Exp Clin Cancer Res. 2015;34(1):97. https://doi.org/10.1186/s13046-015-0211-0
Li L, Zhang M, Zhang L, Cheng Y, Tu X, Lu Z. Klotho regulates cigarette smoke-induced autophagy: implication in pathogenesis of COPD. Lung 2017;195(3):295-301. https://doi.org/10.1007/s00408-017-9997-1
Aouacheria A, Brunet F, Gouy M. Phylogenomics of life-or-death switches in multicellular animals: Bcl-2, BH3-Only, and BNip families of apoptotic regulators. Mol Biol Evol. 2005;22(12):2395-416. https://doi.org/10.1093/molbev/msi234
Nakajima K, Hirose H, Taniguchi M, Kurashina H, Arasaki K, Nagahama M, Tani K, Yamamoto A, Tagaya M. Involvement of BNIP1 in apoptosis and endoplasmic reticulum membrane fusion. EMBO J 2004;23(16):3216-26. https://doi.org/10.1038/sj.emboj.7600333
Arakawa S, Honda S, Yamaguchi H, Shimizu S. Molecular mechanisms and physiological roles of Atg5/Atg7-independent alternative autophagy. Proc Jpn Acad Ser B Phys Biol Sci. 2017;93(6):378-85. https://doi.org/10.2183/pjab.93.023
Gao AM, Zhang XY, Hu JN, Ke ZP. Apigenin sensitizes hepatocellular carcinoma cells to doxorubic through regulating miR-520b/ATG7 axis. Chem Biol Interact. 2018;280:45-50. https://doi.org/10.1016/j.cbi.2017.11.020
Palanisamy K, Tsai TH, Yu TM, Sun KT, Yu SH, Lin FY, Wang IK, Li CY. RNA-binding protein, human antigen R regulates hypoxia-induced autophagy by targeting ATG7/ATG16L1 expressions and autophagosome formation. J Cell Physiol. 2019;234(5):7448-58. https://doi.org/10.1002/jcp.27502
Feng Y, Liu J, Guo W, Guan Y, Xu H, Guo Q, Song X, Yi F, Liu T, Zhang W, Dong X, Cao LL, O'Rourke BP, Cao L. Atg7 inhibits Warburg effect by suppressing PKM2 phosphorylation resulting reduced epithelial-mesenchymal transition. Int J Biol Sci. 2018;14(7):775-83. https://doi.org/10.7150/ijbs.26077
Zaffagnini G, Savova A, Danieli A, Romanov J, Tremel S, Ebner M, Peterbauer T, Sztacho M, Trapannone R, Tarafder AK, Sachse C, Martens S. p62 filaments capture and present ubiquitinated cargos for autophagy. EMBO J. 2018;37(5):e98308. https://doi.org/10.15252/embj.201798308
Bartolini D, Dallaglio K, Torquato P, Piroddi M, Galli F. Nrf2-p62 autophagy pathway and its response to oxidative stress in hepatocellular carcinoma. Transl Res. 2018;193:54-71. https://doi.org/10.1016/j.trsl.2017.11.007
Zheng S, Han F, Shi Y, Wen L, Han D. Single-prolonged-stress-induced changes in autophagy-related proteins Beclin-1, LC3, and p62 in the medial prefrontal cortex of rats with post-traumatic stress disorder. J Mol Neurosci. 2017;62(1):43-54. https://doi.org/10.1007/s12031-017-0909-x
Henry WS, Laszewski T, Tsang T, Beca F, Beck AH, McAllister SS, Toker A. Aspirin suppresses growth in PI3K-mutant breast cancer by activating AMPK and inhibiting mTORC1 signaling. Cancer Res. 2017;77(3):790-801. https://doi.org/10.1158/0008-5472.CAN-16-2400
Jia Y, Mo SJ, Feng QQ, Zhan ML, OuYang LS, Chen JC, Ma YX, Wu JJ, Lei WL. EPO-dependent activation of PI3K/Akt/FoxO3a signalling mediates neuroprotection in in vitro and in vivo models of Parkinson's disease. J Mol Neurosci. 2014;53(1):117-24. https://doi.org/10.1007/s12031-013-0208-0
Foucquier J, Guedj M. Analysis of drug combinations: current methodological landscape. Pharmacol Res Perspect. 2015;3(3):e00149. https://doi.org/10.1002/prp2.14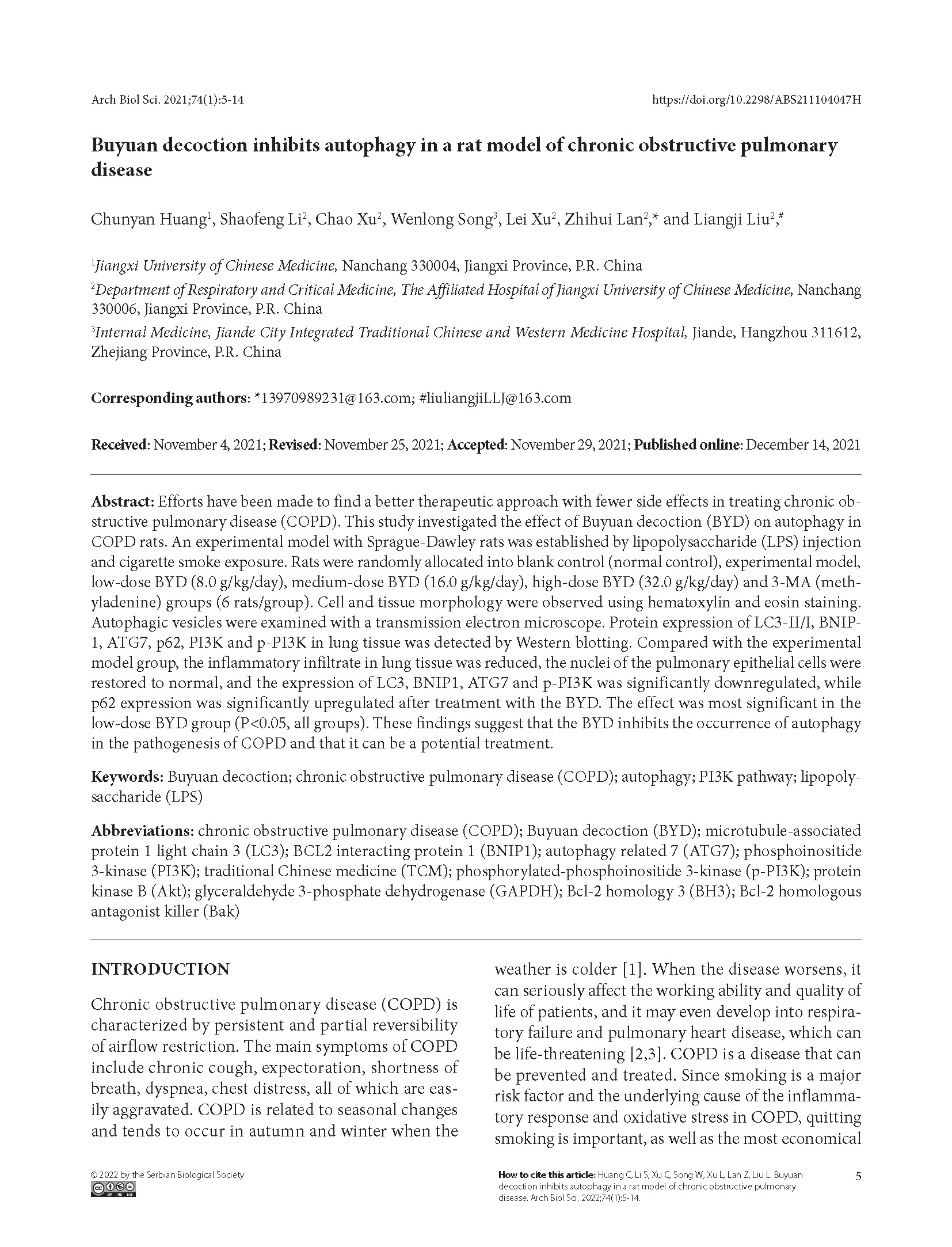 Downloads
How to Cite
1.
Huang C, Li S, Xu C, Song W, Xu L, Lan Z, Liu L. Buyuan decoction inhibits autophagy in a rat model of chronic obstructive pulmonary disease. Arch Biol Sci [Internet]. 2022Apr.1 [cited 2022Jul.5];74(1):5-14. Available from: https://www.serbiosoc.org.rs/arch/index.php/abs/article/view/7207
License
Copyright (c) 2021 Archives of Biological Sciences
This work is licensed under a Creative Commons Attribution-NonCommercial-NoDerivatives 4.0 International License.