A novel antifungal peptide purified from Bacillus subtilis strain EDR4
Abstract
Bacillus subtilis strain EDR4 is a potential biocontrol agent against Valsa mali (Vm), the fungus causing apple canker disease. In this study, we identified and characterized the antifungal peptide produced by B. subtilis EDR4. Peptides were isolated by 30% ammonium sulfate precipitation and purified by column chromatography. A 4-kDa peptide exhibiting antifungal activity was obtained and designated as P6. The amino acid sequence of P6 was determined by liquid chromatography combined with tandem mass spectrometry. P6 showed inhibitory effects against eight different pathogenic plant fungi, and was stable (i.e., retained its biological activity) at temperatures as high as 121°C for 20 min and at pH values ranging from 3 to 11. Microscopic examination of Vm hyphae treated with P6 showed protoplasm release, and in vitro spore germination was also inhibited. These results suggest that P6 is the active substance responsible for the antifungal activity of B. subtilis EDR4 against Vm and that P6 may be effective in the biocontrol of Vm as well as other plant pathogenic fungi.
Downloads
Download data is not yet available.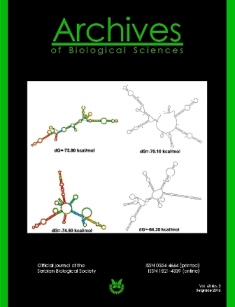 Downloads
How to Cite
1.
Ji J, Yang J, Huang L, Kang Z. A novel antifungal peptide purified from Bacillus subtilis strain EDR4. Arch Biol Sci [Internet]. 2016Jun.27 [cited 2023Nov.28];68(2):319-24. Available from: https://www.serbiosoc.org.rs/arch/index.php/abs/article/view/773
License
Authors grant the journal right of first publication with the work simultaneously licensed under a Creative Commons Attribution 4.0 International License that allows others to share the work with an acknowledgment of the work's authorship and initial publication in this journal.