SEM study of ultrastructural changes in branchial architecture of Ctenopharyngodon idella (Cuvier & Valenciennes) exposed to chlorpyrifos
Abstract
We evaluated structural modifications in the branchial architecture of grass carp, Ctenopharyngodon idella, chronically exposed to chlorpyrifos (an organophosphate) using scanning electron microscopy (SEM). Static renewal tests were conducted for 96 h to determine the LC50 of chlorpyrifos to the fish. Physicochemical analysis of water was done using standard methods. To assess the effect of chronic toxicity, fish were exposed to two sublethal concentrations (1.44 µg/L and 2.41 µg/L) of chlorpyrifos for 15, 30 and 60 days, after which gills were examined by SEM, which revealed changes in gill ultrastructure. Branchial alterations included distorted secondary lamellae in the form of curling and shortening, erosion in a few primary filaments and a wrinkled and denuded epithelial surface. Excessive mucosal openings (mucoid hyperplasia) on the surface were observed in the gills of fish exposed to both concentrations of chlorpyrifos. Alteration in the microridge pattern of pavement cells and cracks on the gill rakers were also observed, and the intensity of the damage was found to be directly related to the toxicant concentration and exposure period. The present study revealed that the assessment of surface morphology can serve as a novel bioindicator of pollution, disease and toxicity.
Downloads
Download data is not yet available.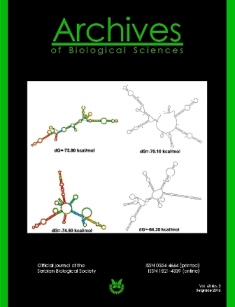 Downloads
How to Cite
1.
Kaur M, Jindal R. SEM study of ultrastructural changes in branchial architecture of Ctenopharyngodon idella (Cuvier & Valenciennes) exposed to chlorpyrifos. Arch Biol Sci [Internet]. 2016Jun.27 [cited 2023Nov.28];68(2):393-8. Available from: https://www.serbiosoc.org.rs/arch/index.php/abs/article/view/781
License
Authors grant the journal right of first publication with the work simultaneously licensed under a Creative Commons Attribution 4.0 International License that allows others to share the work with an acknowledgment of the work's authorship and initial publication in this journal.