Anamorphic development of Apfelbeckia insculpta (L. Koch, 1867) (Diplopoda: Callipodida: Schizopetalidae)
Abstract
An overview of the anamorphic development of Apfelbeckia insculpta is provided. As in other myriapods and arthropods, post-embryonic  period of the life cycle includes different stages that are separated by molts. Based on an earlier description of post-embryogenesis of A. insculpta and on our data, we describe ten stadia that occur after juveniles of our focal species hatch from the egg. Each molt is accompanied by the addition of podous and apodous pleurotergites, leg-pairs and ocelli. Thus, the numbers of these structures can be used as reliable criteria for the separation of post-embryonic stadia in A. insculpta. Adulthood is reached through teloanamorphosis, i.e., with the ninth and last molt individuals become sexually mature and achieve adulthood. Sexes can be distinguished from stadium VIII onward.
Downloads
Download data is not yet available.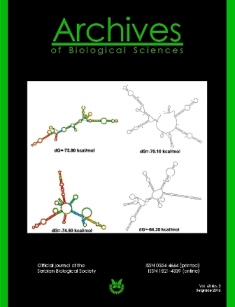 Downloads
How to Cite
1.
Ilić BS, Tomić VT, Lučić LR, Mitić BM. Anamorphic development of Apfelbeckia insculpta (L. Koch, 1867) (Diplopoda: Callipodida: Schizopetalidae). Arch Biol Sci [Internet]. 2016Jun.27 [cited 2023Nov.28];68(2):445-50. Available from: https://www.serbiosoc.org.rs/arch/index.php/abs/article/view/787
License
Authors grant the journal right of first publication with the work simultaneously licensed under a Creative Commons Attribution 4.0 International License that allows others to share the work with an acknowledgment of the work's authorship and initial publication in this journal.