Promotion of cytoplasmic vacuolation-mediated cell death of human prostate cancer PC-3 cells by oxidative stress induced by daucusol, a new guaiane-type sesquiterpenoid from Daucus carota L.
Keywords:
daucusol, cytoplasmic vacuolation, oxidative stress, endoplasmic reticulum stress, prostate cancer
Abstract
We investigated the antitumor activity of daucusol (DS) derived from Daucus carota L. in PC-3, A549 and HeLa cell lines by the MTT assay. Optical microscopy revealed that exposure of PC-3 cells to DS resulted in cytoplasmic vacuolation. Flow cytometry analysis of the phase of the cell cycle did not reveal a sub-G1 peak, and no caspase-dependent activation was observed after DS treatment. The levels of endoplasmic reticulum (ER) stress biomarkers, LC3B-II and ubiquitinated proteins were increased. It was also observed that oxidative stress played an important role in the activation of the cytoplasmic vacuolation-mediated cell-death pathway. In vivo, DS inhibited tumor growth in nude mice by 39.13% compared to the vehicle. Protein expression in the tumor tissue was consistent with their expression in vitro. Our findings indicate that DS induced cytoplasmic vacuolation-mediated death in PC-3 cells by triggering oxidative stress and suggest that targeting this pathway could serve as a novel therapeutic approach for prostate cancer.
https://doi.org/10.2298/ABS160902123H
Received: September 2, 2016; Revised: October 1, 2016; Accepted: October 28, 2016; Published online: November 9, 2016
How to cite: Han H, Liu N, Zhang L, Gong M, Cao M, Li B, Kaisa S, Yu X, Tian J. Promotion of cytoplasmic vacuolation-mediated cell death of human prostate cancer PC-3 cells by oxidative stress induced by daucusol, a new guaiane-type sesquiterpenoid from Daucus carota L. Arch Biol Sci. 2017;69(3):481-9.
Downloads
Download data is not yet available.
References
Jemal A, Bray F, Center MM, Ferlay JJ, Ward E, Forman D. Global cancer statistics. CA. Cancer J Clin. 2011;61(2):69-90.
Zhang XS, Zhao C, Tang WZ, Wu XJ, Zhao YQ. Gypensapogenin H, a novel dammarane-type triterpene induces cell cycle arrest and apoptosis on prostate cancer cells. Steroids. 2015;104:276-83.
Jiang Q, Yeh S, Wang X, Xu DF, Zhang QX, Wen XQ, Xia SJ, Chang CS. Targeting androgen receptor leads to suppression of prostate cancer via induction of autophagy. J Urology. 2012;188(4):1361-8.
Mckenzie S, Kyprianou N. Apoptosis evasion: The role of survival pathways in prostate cancer progression and therapeutic resistance. J Cell Biochem. 2006;97(1):18-32.
Farrow JM, Yang JC, Evans CP. Autophagy as a modulator and target in prostate cancer. Nat Rev Urol. 2014;11(9):508-16.
Sperandio S, Belle ID, Bredesen DE. An alternative, nonapoptotic form of programmed cell death. Proc Natl Acad Sci U S A. 2000;97(26):14376-81.
Kar R, Singha PK, Venkatachalam MA, Saikumar P. A Novel Role for MAP1 LC3 in Non-Autophagic Cytoplasmic Vacuolation Death of Cancer Cells. Oncogene. 2009;28(28):2556-68.
Lee WJ, Chien MH, Chow JM, Chang JL, Wen YC, Lin YW, Cheng CW, Lai GM, Hsiao M, Lee LM. Nonautophagic cytoplasmic vacuolation death induction in human PC-3M prostate cancer by curcumin through reactive oxygen species -mediated endoplasmic reticulum stress. Sci Rep-UK. 2015;5:10420.
Fu HW, Zhang L, Yi T, Chen RZ, Wang X, Tian JK. Two new guaiane-type sesquiterpene glycosides from the fruits of Daucus carota L. ChemInform. 2010;41(26):69-71.
Chinese Pharmacopoeia Commission. Pharmacopoeia of the People's Republic of China. 10th ed. Part 1. Beijing: People's Medical Publishing House; 2015. p. 245-6.
Chou CC, Chuang HC, Salunke SB, Kulp SK, Chen CS. A novel HIF-1α-integrin-linked kinase regulatory loop that facilitates hypoxia-induced HIF-1α expression and epithelial-mesenchymal transition in cancer cells. Oncotarget. 2015;6(10):74-80.
Chiu HW, Lin JH, Chen YA, Ho SY, Wang YJ. Combination treatment with arsenic trioxide and irradiation enhances cell-killing effects in human fibrosarcoma cells in vitro and in vivo through induction of both autophagy and apoptosis. Autophagy. 2010;6(3):353-65.
Li CJ, Chu CY, Huang LH, Wang LH, Wang MH, Sheu LF, Yeh, JL, Hsu HY. Synergistic anticancer activity of triptolide combined with cisplatin enhances apoptosis in gastric cancer in vitro and in vivo. Cancer Lett. 2012;319(2):203-13.
Suárez Y, González L, Cuadrado A, Berciano M, Lafarga M, Muñoz A. Kahalalide F, a new marine-derived compound, induces oncosis in human prostate and breast cancer cells. Mol Cancer Ther. 2003;2(9):863-72.
Dipaola RS, Dvorzhinski D, Thalasila A, Garikapaty V, Doram D, May M, Bray K, Mathew R, Beaudoin B, Karp C, Stein M, Foran DJ, White E. Therapeutic starvation and autophagy in prostate cancer: a new paradigm for targeting metabolism in cancer therapy. Prostate. 2008;68(16):1743-52.
Overholtzer M, Mailleux AA, Mouneimne G, Normand G, Schnitt S, King RW, Cibas ES, Brugge JS. A nonapoptotic cell death process, entosis, that occurs by cell-in-cell invasion. Cell. 2007;131(5):966-79.
Almagro MCD, Vucic D. Necroptosis: Pathway diversity and characteristics. Semin Cell Dev Biol. 2015;39:56-62.
Ennis HL, Lubin M. Cycloheximide: Aspects of inhibition of protein synthesis in mammalian cells. Science. 1964;146(3650):1474-6.
Kanki T, Furukawa K, Yamashita SI. Mitophagy in yeast: Molecular mechanisms and physiological role. Biochim Biophys Acta, Mol Cell Res. 2015;1853:2756-65.
Matsuda N, Sato S, Shiba K, Okatsu K, Saisho K, Gautier CA, Sou YS, Saiki S, Kawajiri S, Sato F, Kimura M, Komatsu M, Hattori N, Tanaka K. PINK1 stabilized by mitochondrial depolarization recruits Parkin to damaged mitochondria and activates latent Parkin for mitophagy. J Cell Biol. 2010;189(2):211-21
Johnson S, Michalak M, Opas M, Eggleton P. The ins and outs of calreticulin: from the ER lumen to the extracellular space. Trends Cell Biol. 2001;11(3):122-9.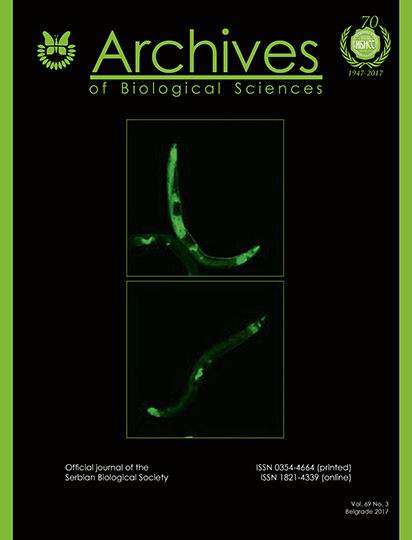 Downloads
How to Cite
1.
Han H, Liu N, Zhang L, Gong M, Cao M, Li B, Kaisa S, Yu X, Tian J. Promotion of cytoplasmic vacuolation-mediated cell death of human prostate cancer PC-3 cells by oxidative stress induced by daucusol, a new guaiane-type sesquiterpenoid from Daucus carota L. Arch Biol Sci [Internet]. 2017Aug.11 [cited 2022Aug.18];69(3):481-9. Available from: https://www.serbiosoc.org.rs/arch/index.php/abs/article/view/960