Effects of nano-emulsion preparations of tocopherols and tocotrienols on oxidative stress and osteoblast differentiation
Keywords:
nano-emulsion, tocopherol, tocotrienol, osteoblast, oxidative stress
Abstract
Tocopherols and tocotrienols are two groups of compounds in the vitamin E family, of which the tocopherols are widely used as antioxidant dietary supplements. Recent studies have shown mixed observations for tocopherol functions in bone homeostasis. We have evaluated the potency of suspension- and nano-emulsion formulation-based delivery of different vitamin E family members in lipopolysaccharide (LPS)-induced oxidative stress and osteoblast differentiation. Our results showed the both tocopherols and tocotrienols could reduce oxidative stress as evaluated by the levels of reactive oxygen species (ROS). Their effects were enhanced when applied in the nano-emulsion mode of delivery due to increased bioavailability. In addition, our results showed that tocotrienols increased osteoblast differentiation, while tocopherols showed reduced osteoblast differentiation, which may be due to their differential effects on SMAD and p65 signaling. Together, these findings indicate that tocotrienols delivered through nano-emulsion exhibit superior antioxidant properties and osteoblast differentiation, and could serve as a better alternative to tocopherol-based vitamin E supplements.
Received: February 8, 2016; Revised: March 18, 2016; Accepted: April 5, 2016; Published online: October 10, 2016
Song LS, Zhang ZX, Wang Y, Liu Y, Zhang R, Lu LJ. Effects of nano-emulsion preparations of tocopherols and tocotrienols on oxidative stress and osteoblast differentiation. Arch Biol Sci. 2017;69(1):149-56.
Downloads
Download data is not yet available.
References
Raggatt LJ, Partridge NC. Cellular and molecular mechanisms of bone remodeling. J Biol Chem. 2010;285(33):25103-8.
Florencio-Silva R, Sasso GR, Sasso-Cerri E, Simões MJ, Cerri PS. Biology of Bone Tissue: Structure, Function, and Factors That Influence Bone Cells. Biomed Res Int. 2015;2015:421746.
Hayden RS, Fortin JP, Harwood B, Subramanian B, Quinn KP, Georgakoudi I, Kopin AS, Kaplan DL. Cell-tethered ligands modulate bone remodeling by osteoblasts and osteoclasts. Adv Funct Mater. 2014;24(4):472-9.
Ikeda K, Takeshita S. The role of osteoclast differentiation and function in skeletal homeostasis. J Biochem. 2016;159(1):1-8.
Shaw AT, Gravallese E. Mediators of inflammation and bone remodeling in rheumatic disease. Semin Cell Dev Biol. 2016;49:2-10.
Hercz G. Semin Dial. Regulation of bone remodeling: impact of novel therapies. 2001;14(1):55-60.
Niki E, Traber MG. Vitamin E history. Ann Nutr Metab. 2012;61:207-12.
Brigelius-Flohé R, Traber MG. Vitamin E: function and metabolism. FASEB Journal. 1999;13:1145-55.
Ahsan H, Ahad A, Iqbal J, Siddiqui WA. Pharmacological potential of tocotrienols: a review. Nutr Metab (Lond). 2014;11(1):52.
Godbout JP, Berg BM, Kelley KW, Johnson RW. alpha-Tocopherol reduces lipopolysaccharide-induced peroxide radical formation and interleukin-6 secretion in primary murine microglia and in brain. Journal of Neuroimmunology. 2004;149:101-9.
Hybertson BM, Chung JH, Fini MA, Lee YM, Allard JD, Hansen BN, Cho OJ, Shibao GN, Repine JE. Aerosol-administered alpha-tocopherol attenuates lung inflammation in rats given lipopolysaccharide intratracheally. Exp Lung Res. 2005;31:283-94.
Kontush A, Finckh B, Karten B, Kohlschütter A, Beisiegel U. Antioxidant and prooxidant activity of alpha-tocopherol in human plasma and low density lipoprotein. J Lipid Res. 1996;37(7):1436-48.
Fujita K, Iwasaki M, Ochi H, Fukuda T, Ma C, Miyamoto T, Takitani K, Negishi-Koga T, Sunamura S, Kodama T, Takayanagi H, Tamai H, Kato S, Arai H, Shinomiya K, Itoh H, Okawa A, Takeda S. Vitamin E decreases bone mass by stimulating osteoclast fusion. Nat Med. 2012;18(4):589-94.
Chin KY, Ima-Nirwana S. The biological effects of tocotrienol on bone: a review on evidence from rodent models. Drug Des Devel Ther. 2015;9:2049-61.
Deng L, Ding Y, Peng Y, Wu Y, Fan J, Li W, Yang R, Yang M, Fu Q. γ-Tocotrienol protects against ovariectomy-induced bone loss via mevalonate pathway as HMG-CoA reductase inhibitor. Bone. 2014;67:200-7.
Muhammad N, Luke DA, Shuid AN, Mohamed N, Soelaiman IN. Tocotrienol supplementation in postmenopausal osteoporosis: evidence from a laboratory study. Clinics (Sao Paulo). 2013;68(10):1338-43.
Hippalgaonkar K, Majumdar S, Kansara V. Injectable lipid emulsions-advancements, opportunities and challenges. AAPS PharmSciTech. 2010;11(4):1526-40.
Khan I, Khan M, Umar MN, Oh DH. Nanobiotechnology and its applications in drug delivery system: a review. IET Nanobiotechnol. 2015;9(6):396-400.
Mukherjee B. Nanosize drug delivery system. Curr Pharm Biotechnol. 2013;14(15):1221.
Kuo F, Subramanian B, Kotyla T, Wilson TA, Yoganathan S, Nicolosi RJ. Nanoemulsions of an anti-oxidant synergy formulation containing gamma tocopherol have enhanced bioavailability and anti-inflammatory properties. Int J Pharm. 2008;363(1-2):206-13.
Subramanian B, Kuo F, Ada E, Kotyla T, Wilson T, Yoganathan S, Nicolosi R. Enhancement of anti-inflammatory property of aspirin in mice by a nano-emulsion preparation. Int Immunopharmacol. 2008;8(11):1533-9.
Anton N, Vandamme TF. Nano-emulsions and micro-emulsions: clarifications of the critical differences. Pharm Res. 2011;28(5):978-85.309-1.
Nishio K, Horie M, Akazawa Y, Shichiri M, Iwahashi H, Hagihara Y, Yoshida Y, Niki E. Attenuation of lipopolysaccharide (LPS)-induced cytotoxicity by tocopherols and tocotrienols. Redox Biol. 2013;1:97-103.
Subramanian B, Ko WC, Yadav V, DesRochers TM, Perrone RD, Zhou J, Kaplan DL. The regulation of cystogenesis in a tissue engineered kidney disease system by abnormal matrix interactions. Biomaterials. 2012;33(33):8383-94.
Subramanian B, Rudym D, Cannizzaro C, Perrone R, Zhou J, Kaplan DL. Tissue-engineered three-dimensional in vitro models for normal and diseased kidney. Tissue Eng Part A. 2010;16(9):2821-31.
Suntres ZE, Shek PN. Treatment of LPS-induced tissue injury: role of liposomal antioxidants. Shock. 1996;6:S57-S64.
Siddappa R, Fernandes H, Liu J, van Blitterswijk C, de Boer J. The response of human mesenchymal stem cells to osteogenic signals and its impact on bone tissue engineering. Curr Stem Cell Res Ther. 2007;2:209-20.
Slater BJ, Kwan MD, Gupta DM, Panetta NJ, Longaker MT. Mesenchymal cells for skeletal tissue engineering. Expert Opin Biol Ther. 2008;8(7):885-93.
Chen G, Deng C, Li YP. TGF-β and BMP signaling in osteoblast differentiation and bone formation. Int J Biol Sci. 2012;8(2):272-88.
Yong Qiao X, Nie Y, Xian Ma Y, Chen Y, Cheng R, Yao Yinrg W, Hu Y, Ming Xu W, Zhi Xu L. Irisin promotes osteoblast proliferation and differentiation via activating the MAP kinase signaling pathways. Sci Rep. 2016;6:18732
Li A, Yang L, Geng X, Peng X, Lu T, Deng Y, Dong Y. Rocaglamide-A Potentiates Osteoblast Differentiation by Inhibiting NF-κB Signaling. Mol Cells. 2015;38(11):941-9.
Mathur P, Ding Z, Saldeen T, Mehta JL. Tocopherols in the Prevention and Treatment of Atherosclerosis and Related Cardiovascular Disease. Clin Cardiol. 2015;38(9):570-6.
Saremi A, Arora R. Vitamin E and cardiovascular disease. Am J Ther. 2010;17(3):e56-65.
Bunout D. Therapeutic potential of vitamin E in heart disease. Expert Opin Investig Drugs. 2000;9(11):2629-35.
Kasai S, Ito A, Shindo K, Toyoshi T, Bando M. High-Dose α-Tocopherol Supplementation Does Not Induce Bone Loss in Normal Rats. PLoS One. 2015;10(7):e0132059.
Ochi H, Takeda S. The Two Sides of Vitamin E Supplementation. Gerontology. 2015;61(4):319-26.
Hamidi MS, Corey PN, Cheung AM. Effects of vitamin E on bone turnover markers among US postmenopausal women. J Bone Miner Res. 2012;27(6):1368-80.
Cerpnjak K, Zvonar A, Gašperlin M, Vrečer F. Lipid-based systems as a promising approach for enhancing the bioavailability of poorly water-soluble drugs. Acta Pharm. 2013;63(4):427-45.
Ha H, Lee JH, Kim HN, Lee ZH. α-Tocotrienol inhibits osteoclastic bone resorption by suppressing RANKL expression and signaling and bone resorbing activity. Biochem Biophys Res Commun. 2011;406(4):546-51.
Abdul-Majeed S, Mohamed N, Soelaiman IN. The use of delta-tocotrienol and lovastatin for anti-osteoporotic therapy. Life Sci. 2015;125:42-8.
Abdul-Majeed S, Mohamed N, Soelaiman IN. A review on the use of statins and tocotrienols, individually or in combination for the treatment of osteoporosis. Curr Drug Targets. 2013;14(13):1579-90.
Chin KY, Mo H, Soelaiman IN. A review of the possible mechanisms of action of tocotrienol - a potential antiosteoporotic agent. Curr Drug Targets. 2013;14(13):1533-41.
Rahman MS, Akhtar N, Jamil HM, Banik RS, Asaduzzaman SM. TGF-β/BMP signaling and other molecular events: regulation of osteoblastogenesis and bone formation. Bone Res. 2015;3:15005.
Marie PJ. Signaling pathways affecting skeletal health. Curr Osteoporos Rep. 2012;10(3):190-8.
Soltanoff CS, Yang S, Chen W, Li YP. Signaling networks that control the lineage commitment and differentiation of bone cells. Crit Rev Eukaryot Gene Expr. 2009;19(1):1-46.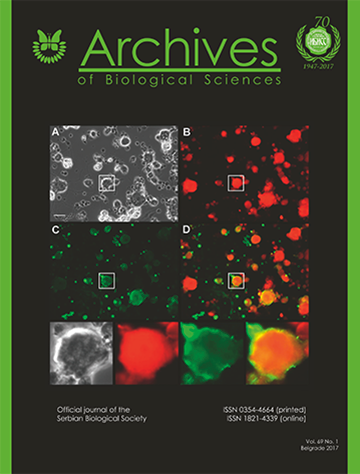 Downloads
How to Cite
1.
Song L-S, Zhang Z-X, Wang Y, Liu Y, Zhang R, Lu L- jin. Effects of nano-emulsion preparations of tocopherols and tocotrienols on oxidative stress and osteoblast differentiation. Arch Biol Sci [Internet]. 2017Mar.8 [cited 2022Jan.19];69(1):149-56. Available from: https://www.serbiosoc.org.rs/arch/index.php/abs/article/view/137