Ectopic expression of CsMADS24, an AGAMOUS ortholog from cucumber, causes homeotic conversion of sepals into carpels in transgenic Arabidopsis plants
Keywords:
cucumber, MADS-box, gene expression, AGAMOUS, phylogenetic analysis, transgenic Arabidopsis
Abstract
The floral homeotic C-function MADS gene AGAMOUS (AG) in Arabidopsis plays crucial roles in specifying stamen and carpel identities as well as determining floral meristem. However, there have been only a few studies of floral homeotic C-function genes in cucumber thus far. In the present study, CsMADS24, a putative AG ortholog from cucumber, was isolated and characterized. Sequence analysis and protein sequence alignment revealed that the deduced CsMADS24 protein contained the typical MIKC structure and the N-terminal extension, as well as two highly conserved AG motifs (I and II). Phylogenetic analysis showed that CsMADS24 fell into the clade of core eudicots, while being distant from the AG orthologs of basal eudicots, monocots and gymnosperms. Expression analysis by RT-PCR showed that CsMADS24 was exclusively expressed in female flower buds. In situ hybridization revealed that CsMADS24 expression was only detected in the carpels. Functional analyses indicated that the sepals were partly converted into carpelloid-like structures in 35S::35S::CsMADS24 transgenic plants. In addition, earlier flowering and delayed floral organ abscission during the development of siliques were also observed in transgenic Arabidopsis. Our findings demonstrate that the AG ortholog plays an exclusive role in carpel specification of cucumber, providing a basis for revealing the mechanisms of reproductive development in cucumber.
https://doi.org/10.2298/ABS180528037Z
Received: May 28, 2018; Revised: July 23, 2018; Accepted: August 22, 2018; Published online: August 29, 2018
How to cite this article: Zhou Y, Hu L, Ge L, Li G, He P, Jiang L, Liu S. Ectopic expression of CsMADS24, an AGAMOUS ortholog from cucumber, causes homeotic conversion of sepals into carpels in transgenic Arabidopsis plants. Arch Biol Sci. 2019;71(1):13-20.
Downloads
Download data is not yet available.
References
Zahn LM, Feng B, Ma H. Beyond the ABC-model: regulation of floral homeotic genes. Adv Bot Res. 2006;44(06):163-207.
Weigel D, Meyerowitz EM. The ABCs of floral homeotic genes. Cell. 1994;78(2):203-9.
Pelaz S, Ditta GS, Baumann E, Wisman E, Yanofsky MF. B and C floral organ identity functions require SEPALLATA MADS-box genes. Nature. 2000;405(6783):200-3.
Heijmans K, Ament K, Rijpkema AS, Zethof J, Wolters-Arts M, Gerats T, Vandenbussche M. Redefining C and D in the petunia ABC. Plant Cell. 2012;24(6):2305-17.
Hu L, Liu S. Genome-wide analysis of the MADS-box gene family in cucumber. Genome. 2012;55(3):245-56.
Yang Y, Fanning L, Jack T. The K domain mediates heterodimerization of the Arabidopsis floral organ identity proteins, APETALA3 and PISTILLATA. Plant J. 2003;33(1):47-59.
Kaufmann K, Melzer R, Theissen G. MIKC-type MADS-domain proteins: structural modularity, protein interactions and network evolution in land plants. Gene. 2005;347(2):183-98.
Dreni L, Kater MM. MADS reloaded: evolution of the AGAMOUS subfamily genes. New Phytol. 2014;201(3):717-32.
Yanofsky MF, Ma H, Bowman JL, Drews GN, Feldmann KA, Meyerowitz EM. The protein encoded by the Arabidopsis homeotic gene agamous resembles transcription factors. Nature. 1990;346(6279):35-9.
Bowman JL, Smyth DR, Meyerowitz EM. Genes directing flower development in Arabidopsis. Plant Cell. 1989;1(1):37-52.
Benedito VA, Visser PB, van Tuyl JM, Angenent GC, de Vries SC, Krens FA. Ectopic expression of LLAG1, an AGAMOUS homologue from lily (Lilium longiflorum Thunb.) causes floral homeotic modifications in Arabidopsis. J Exp Bot. 2004;55(401):1391-9.
Du N, Pijut PM. Isolation and characterization of an AGAMOUS homolog from Fraxinus pennsylvanica. Plant Mol Biol Rep. 2010;28(2):344-51.
Wang Y, Zhang X, Liu Z, Zhang D, Wang J, Liu D, Li F, Lu H. Isolation and characterization of an AGAMOUS-like gene from Hosta plantaginea. Mol Biol Rep. 2012;39(3):2875-81.
Wu W, Chen F, Jing D, Liu Z, Ma L. Isolation and characterization of an AGAMOUS-like gene from Magnolia wufengensis (Magnoliaceae). Plant Mol Biol Rep. 2012;30(3):690-8.
Liu Z, Zhang D, Liu D, Li F, Lu H. Exon skipping of AGAMOUS homolog PrseAG in developing double flowers of Prunus lannesiana (Rosaceae). Plant Cell Rep. 2013;32(2):227-37.
Zhang B, Liu ZX, Ma J, Song Y, Chen FJ. Alternative splicing of the AGAMOUS orthologous gene in double flower of Magnolia stellata (Magnoliaceae). Plant Sci. 2015;241:277-85.
Zhang J, Wang M, Mo Z, Wang G, Guo Z. Molecular characterization and functional analysis of an AGAMOUS-like gene CiAG from pecan. HortScience. 2016;51(6):664-8.
Lee JH, Pijut PM. Isolation and characterization of a floral homeotic gene in Fraxinus nigra causing earlier flowering and homeotic alterations in transgenic Arabidopsis. Plant Gene. 2017;10:17-25.
Kempin SA, Mandel MA, Yanofsky MF. Conversion of perianth into reproductive organs by ectopic expression of the tobacco floral homeotic gene NAG1. Plant Physiol. 1993;103(4):1041-6.
Kang HG, Noh YS, Chung YY, Costa MA, An K, An G. Phenotypic alterations of petal and sepal by ectopic expression of a rice MADS box gene in tobacco. Plant Mol Biol. 1995;29(1):1-10.
Liu JJ. Ectopic expression of a truncated Pinus radiata AGAMOUS homolog (PrAG1) causes alteration of inflorescence architecture and male sterility in Nicotiana tabacum. Mol Breeding. 2012;30(1):453-67.
Zhang J, Li Z, Guo C, Liu G, Bao M. Isolation and functional analyses of a putative floral homeotic C-function gene in a basal eudicot London plane tree (Platanus acerifolia). PLoS One. 2013;8(5):e63389.
Pnueli L, Hareven D, Rounsley SD, Yanofsky MF, Lifschitz E. Isolation of the tomato AGAMOUS gene TAG1 and analysis of its homeotic role in transgenic plants. Plant Cell. 1994;6(2):163-73.
Kater MM, Colombo L, Franken J, Busscher M, Masiero S, Van Lookeren Campagne MM, Angenent GC. Multiple AGAMOUS homologs from cucumber and petunia differ in their ability to induce reproductive organ fate. Plant Cell. 1998;10(2):171-82.
Li LY, Fang ZW, Li XF, Liu ZX. Isolation and characterization of the C-class MADS-box gene from the distylous pseudo-cereal Fagopyrum esculentum. J Plant Biol. 2017;60(2):189-98.
Liu ZX, Xiong HY, Li LY, Fei YJ. Functional conservation of an AGAMOUS orthologous gene controlling reproductive organ development in the gymnosperm species Taxus chinensis var. mairei. J Plant Biol. 2018;61(1):50-9.
Bai SL, Peng YB, Cui JX, Gu HT, Xu LY, Li YQ, Xu ZH, Bai SN. Developmental analyses reveal early arrests of the spore-bearing parts of reproductive organs in unisexual flowers of cucumber (Cucumis sativus L.). Planta. 2004;220(2):230-40.
Sun JJ, Li F, Wang DH, Liu XF, Li X, Liu N, Gu HT, Zou C, Luo JC, He CX, Huang SW, Zhang XL, Xu ZH, Bai SN. CsAP3: a cucumber homolog to Arabidopsis APETALA3 with novel characteristics. Front Plant Sci. 2016;7:1181.
Bie B, Sun J, Pan J, He H, Cai R. Ectopic expression of CsCTR1, a cucumber CTR-like gene, attenuates constitutive ethylene signaling in an Arabidopsis ctr1-1 mutant and expression pattern analysis of CsCTR1 in cucumber (Cucumis sativus). Int J Mol Sci. 2014;15(9):16331-50.
Clough SJ, Bent AF. Floral dip: a simplified method for Agrobacterium-mediated transformation of Arabidopsis thaliana. Plant J. 1998;16(6):735-43.
Filipecki MK, Sommer H, Malepszy S. The MADS-box gene CUS1 is expressed during cucumber somatic embryogenesis. Plant Sci. 1997;125(1):63-74.
Perl-Treves R, Kahana A, Rosenman N, Xiang Y, Silberstein L. Expression of multiple AGAMOUS-like genes in male and female flowers of cucumber (Cucumis sativus L.). Plant Cell Physiol. 1998;39(7):701-10.
Yamaguchi T, Lee DY, Miyao A, Hirochika H, An G, Hirano HY. Functional diversification of the two C-class MADS box genes OSMADS3 and OSMADS58 in Oryza sativa. Plant Cell. 2006;18(1):15-28.
Liu X, Anderson JM, Pijut PM. Cloning and characterization of Prunus serotina AGAMOUS, a putative flower homeotic gene. Plant Mol Biol Rep. 2010;28(2):193-203.
Hao X, Fu Y, Zhao W, Liu L, Bade R, Hasi A, Hao J. Genome-wide identification and analysis of the MADS-box gene family in melon. J Amer Soc Hort Sci. 2016;141(5):507-19.
Smyth DR, Bowman JL, Meyerowitz EM. Early flower development in Arabidopsis. Plant Cell. 1990;2(8):755-67.
Wang X, Gao D, Sun J, Liu M, Lun Y, Zheng J, Wang S, Cui Q, Huang S. An exon skipping in a SEPALLATA-Like gene is associated with perturbed floral and fruits development in cucumber. J Integr Plant Biol. 2016;58(9):766-71.
Ando S, Sato Y, Kamachi S, Sakai S. Isolation of a MADS-box gene (ERAF17) and correlation of its expression with the induction of formation of female flowers by ethylene in cucumber plants (Cucumis sativus L.). Planta. 2001;213(6):943-952.
Kramer EM, Jaramillo MA, Di Stilio VS. Patterns of gene duplication and functional evolution during the diversification of the AGAMOUS subfamily of MADS box genes in angiosperms. Genetics. 2004;166(2):1011-23.
Li HY, Zhao R, Wang C, Zhang LY, Zhao H, Wang YQ. Molecular cloning and transcriptional analysis of the putative AGAMOUS homolog AcAG in Onion (Allium cepa). Plant Mol Biol Rep. 2013;31(6):1346-57.
Mizukami Y, Ma H. Ectopic expression of the floral homeotic gene AGAMOUS in transgenic Arabidopsis plants alters floral organ identity. Cell. 1992;71(1):119-31.
Causier B, Kieffer M, Davies B. Plant biology. MADS-box genes reach maturity. Science. 2002;296(5566):275-6.
Tanaka Y, Oshima Y, Yamamura T, Sugiyama M, Mitsuda N, Ohtsubo N, Ohme-Takagi M, Terakawa T. Multi-petal cyclamen flowers produced by AGAMOUS chimeric repressor expression. Sci Rep. 2013;3:2641.
Lv S, Du X, Lu W, Chong K, Meng Z. Two AGAMOUS-like MADS-box genes from Taihangia rupestris (Rosaceae) reveal independent trajectories in the evolution of class C and class D floral homeotic functions. Evol Dev. 2007;9(1):92-104.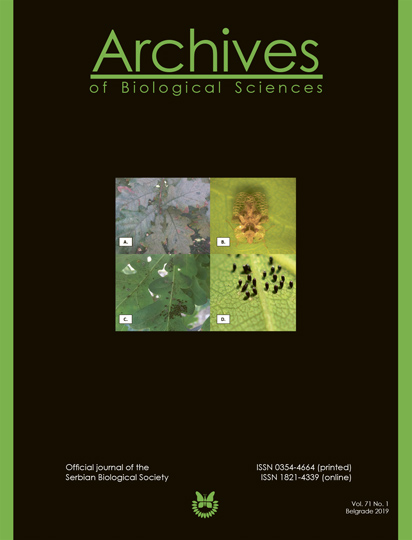 Downloads
How to Cite
1.
Zhou Y, Hu L, Ge L, Li G, He P, Jiang L, Liu S. Ectopic expression of CsMADS24, an AGAMOUS ortholog from cucumber, causes homeotic conversion of sepals into carpels in transgenic Arabidopsis plants. Arch Biol Sci [Internet]. 2019Apr.2 [cited 2023Nov.28];71(1):13-20. Available from: https://www.serbiosoc.org.rs/arch/index.php/abs/article/view/2991
License
Authors grant the journal right of first publication with the work simultaneously licensed under a Creative Commons Attribution 4.0 International License that allows others to share the work with an acknowledgment of the work's authorship and initial publication in this journal.