Protective effects of pumpkin (Cucurbita pepo L.) seed oil on rat liver damage induced by chronic alcohol consumption
Keywords:
chronic alcohol consumption, alcoholic liver disease, pumpkin seed oil, antioxidant enzymes, NF-κB
Abstract
Paper description:
Long-term alcohol consumption leads to alcoholic liver disease (ALD) that can be prevented by the application of pumpkin seed oil (PSO).
Male albino rats were given PSO (per os, 2 mL/kg b.w./day) with 12% ethanol in water ad libitum for 6 weeks.
PSO reduced or eliminated the histopathological changes induced in the liver by chronic concomitant ethanol consumption.
The protective effect of PSO in ALD correlated with elevated NF-κB; the protective effect was mediated by NF-κB.
Abstract: Pumpkin seed oil (PSO) possesses a protective potential against liver injury due to the presence of biologically active ingredients. Adult male albino rats were administrated PSO (per os, 2 mL/kg b.w./day) and a 12% ethanol solution in water, ad libitum, with an average intake of 8.14 g of ethanol/kg bw/day for 6 weeks. Congestion, hepatic central vein dilation, portal vein branch dilation, Kupffer cell hyperplasia, fatty liver changes, hepatocyte focal necrosis were observed after daily alcohol intake. All observed changes were reduced when PSO was ingested with ethanol. PSO intake itself induced discrete cellular edema, congestion and slight dilatation of the central and portal vain branches. Chronic ethanol intake elevated catalase (CAT) activity and glutathione reductase (GR) protein expression; concomitant PSO intake had no effect on CAT activity or GR protein expression. PSO intake decreased the activities of GR, glutathione-S-transferase (GST) and xanthine oxidase (XOD) in the liver, probably due to the ingestion of antioxidants. Intake of PSO and ethanol significantly decreased cytosolic superoxide dismutase (SOD1) and increased NF-κB protein expression compared to ethanol intake, suggesting that the protective effects of PSO were mediated by the NF-κB signaling pathway. Our results reveal a therapeutic potential of PSO in alcoholic liver disease.
Downloads
Download data is not yet available.
References
Nkosi CZ, Opoku AR, Terblanche SE. Antioxidative effects of pumpkin seed (Cucurbita pepo) protein isolate in CCl4-induced liver injury in low-protein fed rats. Phytother Res. 2006;20(11):935-40.
Makni M, Fetoui H, Gargouri NK, Garoui EM, Jaber H ,Makni J, Boudawara T, Zeghal N. Hypolipidemic and hepatoprotective effects of flax and pumpkin seed mixture rich in omega-3 and omega-6 fatty acids in hypercholesterolemic rats. Food Chem Toxicol. 2008;46(12):3714-20.
Bharti SK, Kumar A, Sharma NK, Prakash, OJ, Sudhir K, Krishnan S, Gupta AK, Kumar A. Tocopherol from seeds of Cucurbita pepo against diabetes: Validation by in vivo experiments supported by computational docking. J Formos Med Assoc. 2013;112(11):676-90.
Eraslan G, Kanbur M, Aslan Ö, Karabacak M. The antioxidant effects of pumpkin seed oil on subacute aflatoxin poisoning in mice. Environ Toxicol. 2013;28(12):681-8.
Rabrenovic B, Vujasinovic V, Novakovic M, Vujasinović V, Čorbo S, Basić S. Comparative review of the nutritional value of cold-pressed pumpkin (Cucurbita pepo L.) seed oil of different origins. Hem Ind. 2016;70:59-65.
Procida G, Stancher B, Cateni F, Zacchigna M. Chemical composition and functional characterisation of commercial pumpkin seed oil. J Sci Food Agric. 2013;93(5):1035-41.
Andjelkovic M, Van Camp J, Trawka A, Vehre R. Phenolic compounds and some quality parameters of pumpkin seed oil. Eur J Lipid Sci Technol. 2010;112(2):208-17.
Gossell-Williams M, Lyttle K, Clarke T, Gardner M, Simon O. Supplementation with pumpkin seed oil improves plasma lipid profile and cardiovascular outcomes of female non-ovariectomized and ovariectomized Sprague-Dawley rats. Phytother Res. 2008;22(7):873-7.
Murkovic M, Hillebrand A, Winkler J, Pfannhauser W. Variability of vitamin E content in pumpkin seeds (Cucurbita pepo L.). Z Lebensm Unters Forsch. 1996;202(4):275-8.
Assessment report on Cucurbita pepo L., semen, EMA/HMPC/136022/2010 Final [Internet]. London (UK): European Medicines Agency - Committee on Herbal Medicinal Products (HMPC); 2012 Nov 20. [updated 2013 Mar 23; cited: 2020 Nov 24] Available from: https://www.ema.europa.eu/en/medicines/herbal/cucurbitae-semen
Tsaknis J, Lalas S, Lazos ES. Characterization of crude and purified pumpkin seed oil. Gras Aceit. 1997;48:267-72.
Radic I, Mijovic M, Tatalovic N, Mitic M, Lukic V, Joksimovic B, Petrovic Z, Ristic S, Velickovic S, Nestorovic V, Corac A, Miric M, Adzic M, Blagojevic DP, Popovic L, Hudomal SJ. Protective effects of whey on rat liver damage induced by chronic alcohol intake. Hum Exp Toxicol. 2019;38(6):632-45.
Radić I, Nestorović V, Mijović M, Tatalović N, Joksimović B, Lukić V, Mitić M, Adžić M, Blagojević D, Veličković S, Bulajić S, Djerković B, Mirić M, Hudomal SJ. The effects of whey and pumpkin seed oil on blood biochemical parameters of liver function and lipid profile in rats chronically drinking low concentrations of ethanol. Arch Biol Sci. 2018;70(3):531-41.
Dey A, Cederbaum AI. Alcohol and oxidative liver injury. Hepatology. 2006;43(2):S63-74.
Albano E. Alcohol, oxidative stress and free radical damage. Proc Nutr Soc. 2006;65(3):278-90.
Das SK, Vasudevan DM. Effect of ethanol on liver antioxidant defense systems: A dose dependent study. Indian J Clin Biochem. 2005;20(1):80-4.
Cubero FJ, Nieto N. Kupffer cells and alcoholic liver disease. Rev Esp Enferm Dig. 2006;98(6):460-72.
Hines IN, Wheeler MD. Recent advances in alcoholic liver disease III. Role of the innate immune response in alcoholic hepatitis. Am J Physiol Gastrointest Liver Physiol. 2004;287(2):G310-4.
McClain CJ, Barve S, Barve S, Deaciuc I, Hill DB. Tumor necrosis factor and alcoholic liver disease. Alcohol Clin Exp Res. 1998;22:248S-252S.
Rabrenović BB, Dimić EB, Novaković MM, Tešević VV, Basić ZN. The most important bioactive components of cold pressed oil from different pumpkin (Cucurbita pepo L.) seeds. Lebensm Wiss Technol. 2014;55:521-7.
Fu R, Gregor D, Peng Z, Li J, Bekker A, Ye JH. Chronic intermittent voluntary alcohol drinking induces hyperalgesia in Sprague-Dawley rats. Int J Physiol Pathophysiol Pharmacol. 2015;7(3):136-44.
Dekanski D, Janićijević-Hudomal S, Ristić S, Radonjić NV, Petronijević ND, Piperski V, Mitrović DM. Attenuation of cold restraint stress-induced gastric lesions by an olive leaf extract. Gen Physiol Biophys. 2009;28(1):135-42.
Luna LG. Manual of histologic staining methods of the Armed Forces. 3rd ed. New York: Blakiston Division, McGraw-Hill; 1968. 258 p.
Vidonja Uzelac T, Tatalović N, Mijović M, Koželj G, Nikolić-Kokić A, Oreščanin-Dušić Z, Bresjanac M, Blagojević D. Effects of ibogaine per os application on redox homeostasis in rat liver and erythrocytes. Arch Biol Sci. 2019;71(1):133-44.
Misra HP, Fridovich I. The Role of Superoxide Anion in the Autoxidation of Epinephrine and a Simple Assay for Superoxide Dismutase. J Biol Chem. 1972;247:3170-5.
Beutler E. Red cell metabolism: a manual of biochemical methods. 3rd ed. Orlando, FL: Grune & Stratton; 1984. 188 p.
Paglia DE, Valentine WN. Studies on the quantitative and qualitative characterization of erythrocyte glutathione peroxidase. J Lab Clin Med. 1967;70(1):158-69.
Glatzle D, Vuilleumier JP, Weber F, Decker K. Glutathione reductase test with whole blood, a convenient procedure for the assessment of the riboflavin status in humans. Experientia. 1974;30(6):665-7.
Habig WH, Pabst MJ, Jakoby WB. Glutathione S transferases. The first enzymatic step in mercapturic acid formation. J Biol Chem. 1974;249(22):7130-9.
Terada LS, Leff JA, Repine E. Measurement of xanthine oxidase in biological tissues. Methods Enzymol. 1990;186:651-6.
Rahman I, Kode A, Biswas SK. Assay for quantitative determination of glutathione and glutathione disulfide levels using enzymatic recycling method. Nat Protoc. 2007;1(6):3159-65.
Rehncrona S, Smith DS, Åkesson B, Westerberg E, Siesjö BK. Peroxidative Changes in Brain Cortical Fatty Acids and Phospholipids, as Characterized During Fe2+- and Ascorbic Acid-Stimulated Lipid Peroxidation In Vitro. J Neurochem. 1980;34(6):1630-8.
Lowry OH, Rosebrough NJ, Farr AL, Randal JR. Protein measurement with the Folin phenol reagent. J Biol Chem. 1951;193(1):265-75.
Djordjevic J, Djordjevic A, Adzic M, Elaković I, Matić G, Radojcic MB. Fluoxetine affects antioxidant system and promotes apoptotic signaling in Wistar rat liver. Eur J Pharmacol. 2011;659(1):61-6.
Markwell MA, Haas SM, Bieber LL, Tolbert NE. A modification of the Lowry procedure to simplify protein determination in membrane and lipoprotein samples. Anal Biochem. 1978;87(1):206-10.
Hinkle DE, Wiersma W, Jurs S. Applied statistics for the behavioral sciences. 2nd ed. Boston: Houghton Mifflin Company; 1994. 706 p.
Lovejoy JC. The influence of dietary fat on insulin resistance. Curr Diab Rep. 2002;2(5):435-40.
Nanji AA, Jokelainen K, Rahemtulla A, Miao L, Fogt F, Matsumoto H, Tahan SR, Su GL.Activation of Nuclear Factor Kappa B and Cytokine Imbalance in Experimental Alcoholic Liver Disease in the Rat. Hepatology. 1999;30(4):934-43.
Wheeler MD, Yamashina S, Froh M, Rusyn I, Thurman RG. Adenoviral gene delivery can inactivate Kupffer cells: role of oxidants in NF-kB activation and cytokine production. J Leukoc Biol. 2001;69(2):622-30.
Hill DB, Barve S, Joshi-Barve S, McClain C. Increased monocyte nuclear factor-kB activation and tumor necrosis factor production in alcoholic hepatitis. J Lab Clin Med. 2000;135:387-95
Ovca A, Van Elteren JT, Falnoga I, Selih VS. Speciation of zinc in pumpkin seeds (Cucurbita pepo) and degradation of its species in the human digestive tract. Food Chem. 2011;128(4):839-46.
Haase H, Ober-Blöbaum JL, Engelhardt G, Hebel S, Heit A, Heine H, Rink L. Zinc Signals Are Essential for Lipopolysaccharide-Induced Signal Transduction in Monocytes. J Immunol. 2008;181(9):6491-502.
Zhou Z, Kang X, Jiang Y, Song Z. Preservation of hepatocyte nuclear factor-4alpha is associated with zinc protection against TNF-alpha hepatotoxicity in mice. Exp Biol Med (Maywood). 2007;232(5):622-8.
Nordmann R, Ribiere C, Rouach H. Implication of free radical mechanisms in ethanol-induced cellular injury. Free Radic Biol Med. 1992;12:219-240.
Niki E. Evidence for beneficial effects of vitamin E. Korean J Intern Med. 2015;30:571-9.
van Haaften RI, Evelo CT, Haenen GR, Bast A. α-Tocopherol inhibits human glutathione S-transferase π. Biochem Biophys Res Commun. 2001;280(3):631-3.
Lin KW, Yang SC, Lin CN. Antioxidant constituents from the stems and fruits of Momordica charantia. Food Chem. 2011;127(2):609-14.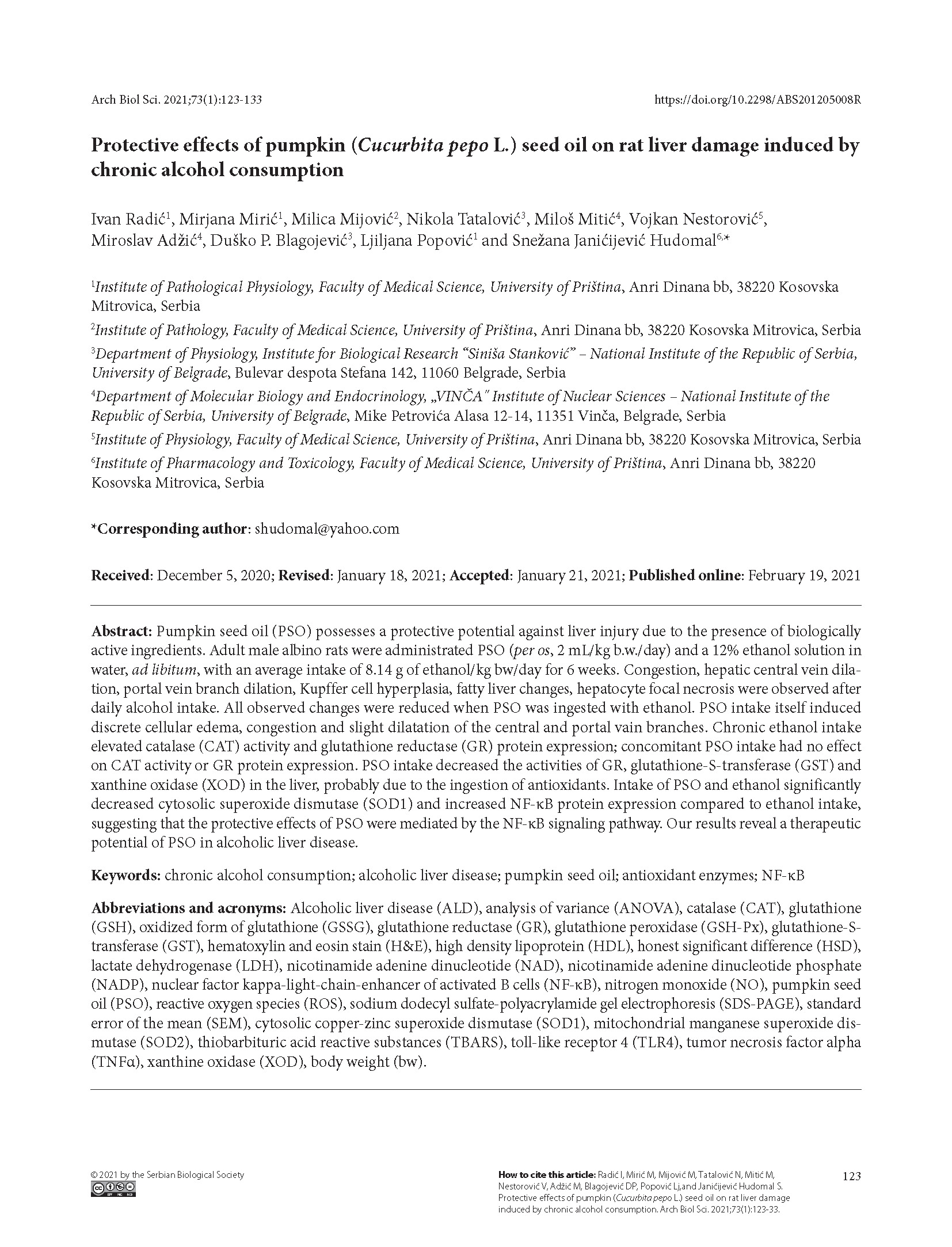 Downloads
How to Cite
1.
Radić I, Mirić M, Mijović M, Tatalović N, Mitić M, Nestorović V, Adžić M, Blagojević DP, Popović L, Janićijević Hudomal S. Protective effects of pumpkin (Cucurbita pepo L.) seed oil on rat liver damage induced by chronic alcohol consumption. Arch Biol Sci [Internet]. 2021Mar.19 [cited 2023Oct.2];73(1):123-3. Available from: https://www.serbiosoc.org.rs/arch/index.php/abs/article/view/6170
License
Copyright (c) 2021 Archives of Biological Sciences
This work is licensed under a Creative Commons Attribution-NonCommercial-NoDerivatives 4.0 International License.
Authors grant the journal right of first publication with the work simultaneously licensed under a Creative Commons Attribution 4.0 International License that allows others to share the work with an acknowledgment of the work's authorship and initial publication in this journal.