Retraction: Papp B, Szurdoki E, Pantović J, Sabovljević M.S. Physcomitrium eurystomum and Pohlia proligera, new mosses in the bryophyte flora of Serbia. Arch Biol Sci. 2013;65(2):703-6., DOI: 10.2298/ABS1302703P
Abstract
The article Papp B, Szurdoki E, Pantović J, Sabovljević M.S. Physcomitrium eurystomum and Pohlia proligera, new mosses in the bryophyte flora of Serbia. Arch Biol Sci. 2013;65(2):703-6. DOI:10.2298/ABS1302703P repeats data already published in Studia Botanica Hungarica in 2012 [Papp B, Szurdoki E, Sabovljević M. Bryophyte flora of lake Vlasina and its surroundings (SE Serbia). Studia Bot Hung. 2012;43:27-45] without proper referencing.
Link to the retracted article: 10.2298/ABS1302703P
Downloads
Download data is not yet available.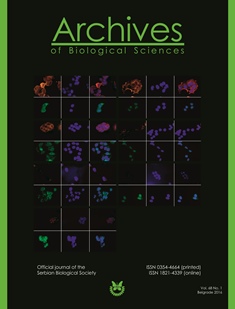 Downloads
How to Cite
1.
Editorial J. Retraction: Papp B, Szurdoki E, Pantović J, Sabovljević M.S. Physcomitrium eurystomum and Pohlia proligera, new mosses in the bryophyte flora of Serbia. Arch Biol Sci. 2013;65(2):703-6., DOI: 10.2298/ABS1302703P. Arch Biol Sci [Internet]. 2016Jun.24 [cited 2022Jul.5];68(1):241-. Available from: https://www.serbiosoc.org.rs/arch/index.php/abs/article/view/762