Retraction: 7-Nitroindazole, a selective neuronal nitric oxide synthase inhibitor in vivo prevents kainate-induced intrahippocampal neurotoxicity. Radenović L, Selaković V, Božić B. Arch Biol Sci. 2005;57(2)75-81. DOI: 10.2298/ABS0502075R
Abstract
The article: 7-Nitroindazole, a selective neuronal nitric oxide synthase inhibitor in vivo prevents kainate-induced intrahippocampal neurotoxicity. Radenović L, Selaković V, Božić B. Arch Biol Sci. 2005;57(2)75-81, repeats data already published in: 7-Nitroindazole reduces nitrite concentration in rat brain after intrahippocampal kainate-induced seizure. Radenović L, Vasiljević I, Selaković V, Jovanović M. Comp Biochem Physiol Pt. C. 2003;135:443-50, without any referencing.
Link to the retracted article: 10.2298/ABS0502075R.
Downloads
Download data is not yet available.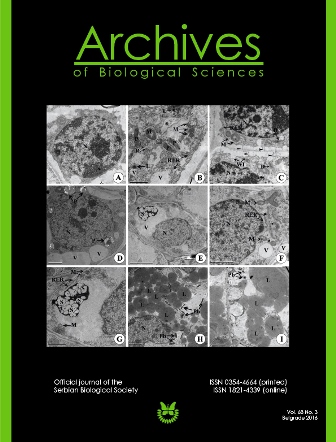 Downloads
How to Cite
1.
Editorial J. Retraction: 7-Nitroindazole, a selective neuronal nitric oxide synthase inhibitor in vivo prevents kainate-induced intrahippocampal neurotoxicity. Radenović L, Selaković V, Božić B. Arch Biol Sci. 2005;57(2)75-81. DOI: 10.2298/ABS0502075R. Arch Biol Sci [Internet]. 2016Sep.5 [cited 2022Jul.5];68(3):691-. Available from: https://www.serbiosoc.org.rs/arch/index.php/abs/article/view/990
Section
Retractions and Corrections