Corrigendum: Radenović L, Selaković V, Anđus PR. Neuroprotection by MK-801 following cerebral ischemia in Mongolian gerbils. Arch Biol Sci. 2008;60(3):341-346. DOI: 10.2298/ABS0803341R
Abstract
The corresponding author has informed the Editor-in-Chief that Fig. 2 in the article: Neuroprotection by MK-801 following cerebral ischemia in Mongolian gerbils, published in the Archives of Biological Sciences in 2008, Vol. 60, Issue 3, is incorrect due to submission of wrong figure. To correct this error, the corresponding author of the article has submitted a new figure. After further discussion with the corresponding author and reviewers, the Editor-in-Chief has decided to publish a corrigendum for this article, providing the correct figure.
Link to the corrected article: 10.2298/ABS0803341R.
Downloads
Download data is not yet available.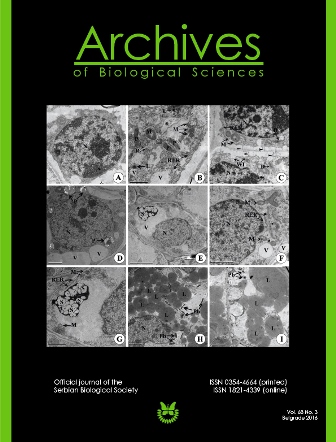 Downloads
How to Cite
1.
Editorial J. Corrigendum: Radenović L, Selaković V, Anđus PR. Neuroprotection by MK-801 following cerebral ischemia in Mongolian gerbils. Arch Biol Sci. 2008;60(3):341-346. DOI: 10.2298/ABS0803341R. Arch Biol Sci [Internet]. 2016Sep.5 [cited 2022Jul.5];68(3):693-. Available from: https://www.serbiosoc.org.rs/arch/index.php/abs/article/view/991
Section
Retractions and Corrections