Retraction: Hazani A, Ibrahim M, Shehata A, El-Gaaly G, Daoud M, Fouad D, Rizwana H, Moubayed N. Ecotoxicity of Ag-nanoparticles on two microalgae, Chlorella vulgaris and Dunaliella tertiolecta. Arch Biol Sci. 2013;65(4):1447-1457. DOI: 10.2298/ABS1304447
Abstract
This is a notice of retraction of the article: Ecotoxicity of Ag-nanoparticles on two microalgae, Chlorella vulgaris and Dunaliella tertiolecta, published in the Archives of Biological Sciences in 2013, Vol. 65, Issue 4. The Editor-in-Chief has been informed that this paper is a duplicate of an earlier paper: Hazani A, Ibrahim M, Arif I, Shehata A, EL-Gaaly G, Daoud M, Fouad D, Rizwana H, Moubayed N. Ecotoxicity of Ag-Nanoparticles to Microalgae. J Pure Appl Microbiol. 2013;7(Spl. Ed.): 233-241. This claim is correct and the entire paper is a verbatim copy of the earlier one. After confirmation of this fact, the Editor-in-Chief of the Archives of Biological Sciences has decided to retract the paper immediately. We apologize to the readers of the journal that it took so many years to notice this error and to retract the paper. We request readers of the journal to directly get in touch with the editorial office and the editors of the journal for similar cases in the future, so that they can be handled promptly.
Link to the retracted article: 10.2298/ABS1304447H
Downloads
Download data is not yet available.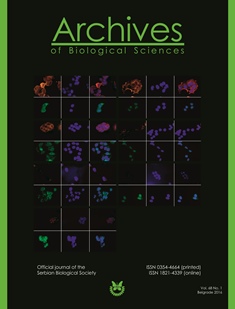 Downloads
How to Cite
1.
Editorial J. Retraction: Hazani A, Ibrahim M, Shehata A, El-Gaaly G, Daoud M, Fouad D, Rizwana H, Moubayed N. Ecotoxicity of Ag-nanoparticles on two microalgae, Chlorella vulgaris and Dunaliella tertiolecta. Arch Biol Sci. 2013;65(4):1447-1457. DOI: 10.2298/ABS1304447. Arch Biol Sci [Internet]. 2016Jun.24 [cited 2022Jul.5];68(1):243-. Available from: https://www.serbiosoc.org.rs/arch/index.php/abs/article/view/763